Paul Stanley & Gene Simmons Bring Arena Football to Anaheim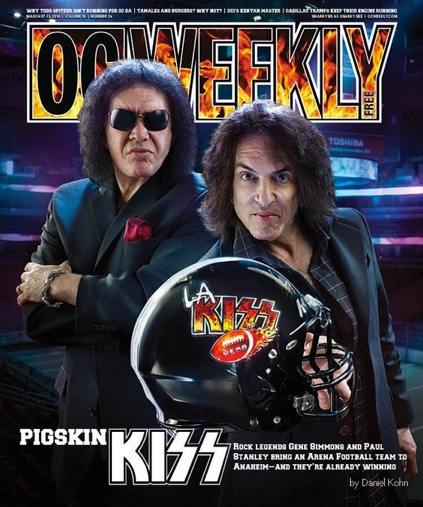 Rock Legends Gene Simmons and Paul Stanley Bring an Arena Football Team, LA Kiss, to Anaheim—and They're Already Winning
By DANIEL KOHN
Photographer: Rickett & Sones | Photo Retouching: Gigantic Squid | Design: Dustin Ames
The first week of January is supposed to be slow on the Santa Ana College campus: no students, no classes, just maintenance workers, administrators and the stray professor. That meant it was the perfect time for the LA KISS, the newest franchise of the Arena Football League (AFL), to unveil its quixotic campaign toward pigskin relevancy—or at least a great payday for everyone involved.
Around 9 a.m. on a clear, chilly morning, hulking figures methodically make their way onto a soccer pitch transformed into a 200-foot-by-85-foot, arena-football-regulation field—about half the size of a standard gridiron. As players wearing team-issued orange shirts and black shorts head onto the field, multiple camera operators stand by the entrance, capturing their every move. They graciously smile and acknowledge the non-team personnel while stretching and preparing for morning practice.
What they don't know is that on this day, the men who sign their checks—and will draw more attention to them than the average AFL player can ever hope to experience—plan to address them.
Suddenly, the players' attention shifts to a gentleman sauntering onto the field. He has long, flowing black hair and is wearing a leather jacket and jeans. After exchanging handshakes with several execs, he looks at his watch.
"Where's Gene?" KISS founding guitarist/singer Paul Stanley asks his manager/co-owner Doc McGhee.
"Soon," McGhee responds.
"That's right—he drives like an old lady," Stanley adds before the two share a laugh.
Finally, Gene Simmons, the legendary KISS bassist/singer, arrives. He parks his black Lincoln Navigator at the adjacent lot and hustles—clad entirely in black—onto the field so that practice and filming can finally commence. There's chatter, but some of the players don't recognize the rock icon without his trademark Kabuki makeup and rock-god stage attire.
After Simmons is mic'd, he joins Stanley, McGhee, co-owner Brett Bouchy and team president Schuyler Hoversten as they casually stroll toward the team huddle, where head coach Bob McMillen is outlining his plans for practice. The morning's action is being captured as part of an upcoming reality show that will chronicle the team's first season; it's scheduled to air on AMC in July.
Since their emergence in the early 1970s, KISS have been known as much for their genius commercialization and branding as for their music and devoted fan base. Over the years, the 2014 Rock & Roll Hall of Fame inductees have licensed the band's name to a wide range of products, including mini-golf courses, Hello Kitty dolls and even caskets for fans who want to represent the KISS army in the afterlife. But their latest venture might be the most ambitious of all: bringing a football franchise to Orange County, an area that produces some of the best high school talent in the country. It is a far different beast than opening up another Rock & Brews restaurant.
The stakes are high for Simmons and Stanley. If the LA KISS can succeed, both by winning on the field and providing an exciting entertainment experience, their pockets and that of the AFL will benefit. Having recently signed a national television contract, the league could become a fixture on the spring sports calendar and achieve the lofty goals that seemed far-fetched when it re-formed in 2010.
And if they fail?
"Once we commit to doing something, it becomes 'How do we make this succeed?'" Stanley says, unapologetically. "We've always gone against the grain and played by our own rules. If winning is the worst we've ever done, well, that's what we've always aspired to."
* * *
After the initial made-for-TV speeches the owners give to the squad, the players shake hands with their bosses.
"Winning comes from teamwork," Stanley tells the team off-camera. "Nobody wins on their own, and if we can instill a sense of band of brothers, which is what it took with KISS, with them, they will be successful."
When talking with Bouchy and McGhee, the players shake hands with stoic expressions. Meeting and greeting Simmons and Stanley is different. The players gravitate toward them wearing smiles; some of them shake like teenagers backstage at a mid-1970s KISS concert. They continue talking to their rock-icon bosses even after the cameras stop rolling, but then McMillen's loud whistle signals them that it's time to get to business.
The LA KISS split into offensive and defensive practices, while the owners, with camera crew in tow, head for a set of bleachers 30 feet away.
Early on, practice is crisp and fluid, appearing as if the team has taken Stanley's message to heart. McMillen claps loudly and barks at the players to keep up the strong showing. As a Hall of Fame AFL player, the coach knows how to get his message across to players, who respond to his upbeat personality. Grueling agility drills are completed multiple times without complaint. After each player finishes a set, the coach shouts encouraging words. Early in the practice, he's focused on the defense. On the other side of the field, passes are mostly on target, with few dropped balls.
At this point, Simmons and Stanley can be excused for checking out early, managing their empire from afar and leaving the dirty work to underlings. Instead, Simmons' eyes are locked on several massive defensive linemen seamlessly weaving around the small orange cones during footwork drills.
"Wow! Did you see him move?" Simmons asks, his eyes lighting up. "I never knew humans could be that big, that fast and that quick on their feet. I'm out of wind just watching them!"
Yet, had it not been for an exploratory phone call from then-Orlando Predators owner Bouchy to McGhee, Simmons says, KISS wouldn't have expanded its brand into the AFL.
"Brett Bouchy is a champion," Simmons remarks. "All four of us—it's the unholy quartet."
Knowing the veteran music manager through a mutual friend, Bouchy originally wanted to chat with McGhee about the possibility of having KISS play a show during the 2013 Arena Bowl festivities in Orlando. "I wanted to create a Super Bowl-type atmosphere," Bouchy elaborates during a phone call a few weeks after the practice. "I wanted to turn it into a weekend event with a concert, and KISS were the obvious choice for it."
However, Bouchy had other ideas, too. He wanted to gauge whether McGhee would consider joining an ownership group for an expansion team in Nashville. For kicks, Bouchy also asked McGhee if he'd ask Simmons and Stanley if they wanted in; when they surprisingly said yes, Bouchy decided to ditch Nashville, shoot for Los Angeles and name the team after the band. With no football team presently in Los Angeles and no serious prospects on the horizon, Bouchy's idea made sense to the rock veterans from a financial perspective as well; during his tenure with the Predators, the team was always one of the league's most profitable.
In the four months after Bouchy's first call, what seemed as far-fetched as a successfully executed fumblerooski began taking shape. First, they needed to find an arena to house the team. After considering several locations, the foursome struck a deal with the Honda Center thanks to KISS' relationship with the venue.
"[It's] a world-class arena," Stanley says. "We've seen enough arenas to know what the top tier is. Quite honestly, they not only welcomed us with open arms, but they made it very clear to us that they wanted us there."
Even though the team is headquartered in Anaheim, the team was given the LA moniker to represent the football-starved region. Nevertheless, Stanley vows to not ignore Anaheim. "We're very much about community," he explains. "Whether it's outreach to hospitals or community service, we are committed to Anaheim. Historically, where a team plays isn't necessarily its identification for that team. If that idea of where you play is the name of your team, you would have the Bronx Yankees. We are of this neighborhood and have shown that to be the case."
What Simmons and Stanley lack in knowing how to run a successful sports team is gained in Bouchy and Hoversten's (recently of the Los Angeles Dodgers) experience. "[The band members] know what we know, and we know what we don't know," Simmons says in his New York accent. "That's why we brought the best people onboard."
As for their individual responsibilities, Stanley designs the team's uniform ("It's what you'd expect from a KISS team," he says) and selects the cheerleading squad. Simmons is involved with what he does best: promotions and branding. Simmons and Stanley regularly make the hour-long drive from their Los Angeles homes to attend meetings. The duo speaks daily with Bouchy and Hoversten about the team's operations. They are even involved in the tough choices when it comes to making critical player personnel decisions.
"When we're reviewing with Coach Bob the team, with the players' names on a big board," Simmons remembers, "we came down to one of the names who was a little slow in returning our calls and wasn't available. On the spot, we erased his name. This is legitimate, and you've gotta commit to it."
In order to carry through with ownership's proclamations of an in-your-face brand of football, the LA KISS went out and acquired the best available talent. Leading the squad as quarterback will be Colt Brennan, the former Mater Dei High quarterback who went on to become NCAA's single-season leader in touchdown passes. He acknowledges the LA KISS is unlike any other team he's played for, but he's upbeat and excited about the team's prospects on and off the field.
"The reality-show aspect has been a little bit different, but it hasn't been anything crazy," Brennan say. "We've been in a football mentality since we showed up."
After being seriously injured in a car accident, the Laguna Beach native wants another crack at the NFL. Initially apprehensive about joining an AFL team, he was sold about playing for the LA KISS after speaking with ownership. "This is an adult league, and we're treated like professionals," the quarterback says. "This is definitely going to be another pathway to get back to the NFL, and the level of talent in the Arena League is top-notch and will hopefully show someone in the NFL to give me a shot again."
* * *
Seeing the rock stars in person has brought out the best in the team. The wide receivers run precise patterns and drop only a handful of passes after being thrown hundreds of reps that morning. Running backs bob and weave past tackling dummies, treating each carry as though it will clinch the Arena Bowl.
As they head toward the team's locker room, located in the college's P.E. center, Stanley and Simmons gush over the team's performance. Simmons continues spouting superlatives about the defensive linemen's agility, while Stanley is impressed with the zip and accuracy of quarterback J.J. Raterink's passes.
"Even when the games aren't on, [when] practice isn't happening, the amount [the players] need to do to keep up with their athleticism is back-breaking stuff," Simmons says as he shakes his head. He removes his sunglasses and wipes his forehead. "I'm out of wind just watching them, and we're"—he points at Stanley and himself—"in pretty good shape!"
Unlike other professional sports leagues, in which owners treat newcomers with caution and distrust, afraid that any new ownership will attempt to uproot a league's existing order, the AFL welcomed the LA KISS with open arms. "We've been embraced immediately," Simmons says, referring to the league's owners and front office. "We understand that part of it is about celebrity, and that's fine. But just being famous doesn't mean anything because some people are turned off to it. We're very lucky our reputation precedes itself and we handle everything professionally."
Stanley praises the team's fellow owners, saying they understand what the LA KISS brings to the sport and how the franchise is an asset to the league. So far, he has been right. Since the team began operations in August, the AFL's profile has increased. It has secured an additional national television contract with ESPN on top of its existing deal with CBS Sports Network, inked before the 2013 season. It's coming back from the ashes of 2008, a year that saw the season canceled, two teams fold (including the Los Angeles Avengers, which was averaging more than 12,000 people per game at Staples Center), two commissioners resign, its collective bargaining agreement with players expire, and almost $14 million in debt.
Simmons and Stanley are well aware of the AFL's checkered past. Saying the league has learned from its mistakes, Simmons vows it is focused on doing "only AFL things" and becoming an entity that's an alternative to the game that dominates America's fall calendar. The AFL's popularity is predicated on its video-game-type scores, with teams racking up numbers in the 40s, 50s and even 60s. "You can't get those scores in NFL football," Stanley laments. "And we want to give them more."
LA KISS games will come with all the spectacle of a KISS concert, Simmons says. Instead of the traditional running onto the field out of a tunnel, the team might be lowered onto the field from the ceiling using a device KISS had created for their live show but never used.
"We're looking to have a Cirque du Soleil type of halftime show, in which we're lowering people on cables from the roof, which is as nontraditional as any halftime experience in professional sports," Stanley says. "If you don't have people rappelling down from the ceiling during halftime, I'll do it."
Will Simmons and Stanley join in the theatrics? Simmons shakes his head quickly, giving the "No thanks" signal with his arms.
"Oh, c'mon, Gene," Stanley interjects. "You know if there's a spotlight on you, you'd definitely do it!"
"Well, that's different," Simmons says wryly as his tone of voice changes. "If there's a spotlight? Then absolutely."
Brennan says the players are aware of the owners' ambitions and will do what it takes on the field to ensure a winning atmosphere. "Man, thinking about what they're going to do to the Honda Center on game [nights] with musical acts, it sounds like a really fun thing," he gushes. "This will be an environment not only where we'd have a great time playing the game, but seeing live music after a game, who wouldn't want to go? It's going to be really fun."
This isn't the legendary band's first foray into sports entertainment. In the late 1990s, KISS sponsored a WCW wrestler based on Simmons' Demon stage persona. While the Demon ultimately wasn't a wrestling success, it piqued the interest of a younger audience who may not have heard of KISS outside of the stories their parents may have shared about rock music. "People who aren't familiar with football should be able to go to see the LA KISS and have the time of their life," Simmons says. "Even if they don't know the specifics of what the rules are, the experience should still kick your ass. We want it to be about the team, but also the spectacle of it."
"To put the KISS name and logo on something, we have to be very, very comfortable that it will reflect well upon us," Stanley adds. "We don't put our name on something and say good luck. Make no mistake: This is football and not rock & roll, and we want to bring something to the sport that it may be missing."
Season-ticket prices start as low as $99 each, which includes nine regular-season games, plus one playoff game. So far, according to Bouchy, the signs have been encouraging. "We've surpassed 5,000 season tickets, and the trends are only looking up," he says. "The biggest problem we've encountered is hiring enough ticket salespeople to keep up with the demand."
"If there's one thing we know, it's how to give people bang for buck," Simmons says. "Football has become prohibitive in the sense that you have to mortgage your house or sell your car to go to Super Bowls. What we're trying to do is make this successful and, at the same time, available for families."
As an additional carrot to lure fans to the arena, there will be Gene Simmons and Paul Stanley bobblehead nights. Season-ticket holders will get a free KISS concert at the end of the season. And after each game—win, lose or draw—the players will stick around for a meet-and-greet session with fans. But Simmons and Stanley know that, despite all their celebrity and showmanship, luring fans to the Honda Center ultimately boils down to winning. By hiring the reigning Coach of the Year, McMillen, formerly with the Chicago Rush, and signing Brennan, Simmons and Stanley believe the two men accurately depict what the LA KISS will stand for.
"Hearing our coach wax poetic about the nature of character is refreshing," Simmons says. "The first thing he started with is that 'You're the representative of our team. When you meet the people who kindly gave us this facility, you're our emissary. Be nice to people.'"
"The AFL is misunderstood," Stanley adds. "Some people don't even know the Arena Football League exists. Other people think it's a bunch of second-rate players. They're not. We want people to see this as a springboard. If they want to get to the NFL, bless 'em. If they want to wear the crown in the AFL, so be it. It's a pretty good place to warm up, and it's definitely not the bullpen."
* * *
As Simmons walks across the Santa Ana College campus, he sees two students gazing his way, so he waves and says hello. They seem confused and look at each other with a sense of disbelief. After an awkward pause, they continue on their way without responding.
"If I had the makeup on, they'd know who I was," he says with a chuckle, pointing to his face.
But something else seems to be on Simmons' mind as he excitedly divulges details about the reality show. He can't find his car keys. He stops talking about the LA KISS and pats himself in an attempt to find them. He thinks he left his keys on the field, but he isn't sure.
We approach the field, and Simmons realizes he's made a rookie mistake. In his mad dash to make the call time, Simmons left his keys dangling from the ignition of his Navigator; the engine is still running. He looks down and shakes his head, seemingly disbelieving his own actions.
"This is what happens when you have too many exciting things going on," he says as he motions a fake gun to his head. "It's funny: I can remember our roster, but I can't remember my car keys. Go figure."