KISS band member Paul Stanley discusses his new autobiography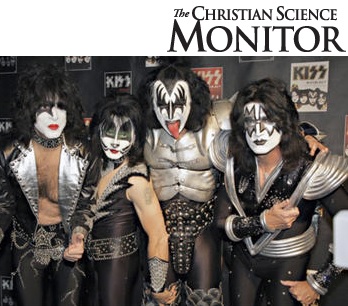 'I wanted [my children] to have a document of what I had done and I also realized that my life could be inspirational to other people,' Stanley said of his decision to write the book.
Those statements sum up Michael Chabon's novel "The Amazing Adventures of Kavalier & Clay," but they also provide a thumbnail sketch of freshly minted Rock and Roll Hall of Fame inductees Kiss. Paul Stanley and Gene Simmons co-founded the band in 1972 and, two years later, the classic version of the group — with drummer Peter Criss and guitarist Ace Frehley— released its debut album.
Since then, critics have found Kiss as cartoonish as anything Kavalier and Clay conjured in their comic-book universe, while the band has sold more than 100 million albums and endless piles of merchandise. From condoms to coffins, and with plenty of T-shirts, posters and, yes, Halloween costumes thrown in for good measure, there is almost nothing Kiss hasn't (or won't) sell its legions of fans, known as the KISS Army.
Despite numerous missteps, Kiss's influence is hard to overstate. Garth Brooks, Nirvana and Pearl Jam have loudly proclaimed their admiration for Kiss while, for better or worse (okay, often worse), the MTV hair-metal generation led by Motley Crue borrowed liberally from Kiss concert theatrics such as extensive explosions and fireworks and elaborate staging.
Of the band's early experiments with explosives, Stanley writes, "Pyro had not yet become a science. We just 'auditioned' a few maniacs who liked to blow [stuff] up."
The band shows little inclination to slow down any time soon. On June 23, Kiss kicks off a summer-long US tour with Def Leppard. After plunging in popularity and relevance through much of the 1980s, the original quartet reunited in 1996, bringing back its signature makeup and stage show for several sellout tours.
Old tensions flared and the co-founders once again replaced Criss and Frehley. They've kept touring since, still a reliable draw at arenas and amphitheaters.
On April 10, they became Hall of Famers after 15 years of snubs. (The 2014 class also included Hall and Oates, Peter Gabriel, Linda Ronstadt, the E Street Band, Cat Stevens, and Nirvana; the ceremony at Brooklyn's Barclays Center premieres May 31 on HBO.)
At the induction, the band opted against performing, the result of lingering feuds over who would be on stage: the original members only, newer members or a combination. No one could agree, including the hall itself, so Kiss, the ultimate arena act, didn't perform at an induction ceremony staged in an arena and held, in part, to honor the band's raucous concerts. They did manage to make acceptance speeches together in civil fashion.
Stanley, the rhythm guitarist, and Simmons, who plays bass, have shared lead vocals on most of the band's songs and wrote or co-wrote the majority. They also preside over the lucrative business of Kiss.
While the tongue-wagging, demon-faced Simmons long ago became the band's focal point, Stanley's Starchild, Criss' Catman and Frehley's Spaceman are familiar to at least a couple of generations of rock fans. This spring, Stanley became the last of the original band members to share the story behind the makeup, the theatrics, and the inevitable excesses and missteps of sudden wealth and fame in an autobiography.
Titled "Face the Music: A Life Exposed," Stanley's account delves more into what he battled: deformity (he was born with a stump for a right ear and is deaf on his right side), indifferent parents, learning disability, and ample doses of depression and doubt. This being a celebrity memoir, there are bouts of narcissism, too. In one instance, Stanley complains of his first wife scoffing at a Mercedes he gave her (she preferred a different model) within pages of Stanley himself passing on bandmate Simmons' offer of a Jaguar in favor of a Porsche. Oh, the angst of rock stardom.
Mostly, though, Stanley proves to be self-aware and blunt. He strips away any notion that any members of Kiss knew what they were doing financially and reveals that his therapist, of all people, alerted him to the reckless and irresponsible management being provided by the band's lawyers and other advisers. And he makes it clear Simmons is more of a business partner than anything else, acknowledging frustration over Simmons' forays into producing and acting during the 1980s while Stanley was left to hold the band and its rotating cast of lead guitarists and drummers together.
Stanley excluded Simmons from his 2005 wedding. Unlike Frehley and Criss, Simmons shares Stanley's disdain for drugs and avoided the traps of addiction. They also share a strong work ethic, a trait that has helped Kiss weather storms of infighting, irrelevance, and incompetence (the last two seen in a disco song, a concept album, and a comically awful made-for-TV movie).
Again and again, the 62-year-old Stanley, now happily married with four children between the ages of 2 to 19, writes of his failure to find a sense of security despite the trappings of what seemed an enviable life: money, clothes, houses, world tours and trips to the Playboy mansion. In "Face the Music," the man born Stanley Bert Eisen writes, "I needed the crowd to love me. Nobody else did. Not even me."
He spoke to me about the Hall of Fame, his book, and what's next during a recent interview.
Following are excerpts from our conversation:
On why he waited to write an autobiography: "I was vehement in my refusal to do a book or anything of that sort because you just have to look at the shelves of a bookstore to see how much crap there is. Autobiographies tend to be incredibly self-congratulatory and very often about things of dubious achievement, if they actually even happened. It wasn't until I realized I could write a book for my kids, for my children, so they would understand what I went through to achieve what I did.
The best thing we can do as parents is lead by example. So I wanted them to have a document of what I had done and I also realized that my life could be inspirational to other people, which is exactly how it's turned out. To grow up as I did and to go through some of the things I went through and to find a spectacular life when I didn't really know one existed – well, that's a great reason to write a book. I couldn't have written it if it didn't have a happy ending."
On his approach: "It took close to a year. I got together with a guy named Tim Mohr [his collaborator on "Face the Music"]. Tim and I would just talk and I would just reminisce and he would record everything, we'd transcribe it and then piece it together. Every word in the book is mine. I loved it when my son, who's 19, read the book. He had this big smile. Other than saying he loved the book, he said, 'It's you. It's your words, it's your humor.' I think the reason it resonates with so many people is because the truth sounds like it's the truth because it's the truth. When you read something that is clearly so, it's pretty indisputable. There is a resonance and a gravitas to it that lets you know it's real."
On the Hall of Fame induction: "It was everything I expected it to be. It's a very elitist club, it dupes the public into believing that there is some credibility to it and that somehow the public has a voice in it, which they don't. It's a small group of elitist publishers and writers and record company people who reflect their own prejudices and preferences. So it was exactly as I expected and from the very beginning of their announcing our induction, they were arrogant and treated us dismissively."
On why he attended: "I went because there are many fans who see it as validation and vindication of their championing us and I wouldn't miss it for the world because it was a celebration of them and for them."
On Steve Nicks of Fleetwood Mac saying Kiss should have performed at the induction: "I saw Stevie backstage, I love Stevie. Obviously, one can't know the inner workings of one band just because you're in another.
All I found myself saying when I was sitting with Gene [Simmons], I leaned over and said, 'Thank God we didn't play.'"
On reaction to his book from band members: I really, again, I'm not in contact with Ace and Peter. We certainly have achieved and started something that has gone on 40 years and that's undeniable, but I don't have ongoing relationship or communication with them.
Gene lives down the road. I certainly see him and we have a great relationship. Oh, of course, he read the book and he was very proud of it."
On fame: "There was a lot of pain and a lot of turmoil in my life. And I don't forget that. That's perhaps part of the reason I could move forward. When I was younger, I thought that becoming famous would be the antidote to my doubts, my unhappiness and my feelings of insecurity, my ear deformity, my hearing loss.
And I found once I became famous, nothing changed. We still keep the same secrets. We live with them. That was when I had to decide, what do I do now? People blow their brains out, some people put needles in their arms, and other people roll up their sleeves and get to work. I'm not a victim, don't want to be a victim. I'm here to tell you that with a lot of hard work and a lot of exploration, you can have an amazing life.
I have a life I didn't even know existed."
On not telling band members about his deformity and deafness: "I was very, very closed, kept a distance even when I was at my closest [with the band in its early days], kept a good arm's length.
I grew up impacted by stares and ridicule and a home life, although it wasn't intentional, wasn't very supportive. [Stanley grew his hair, in part, to cover his deformity.] So magically having an ear wouldn't change anything [in the 1980s he had several surgeries to construct an ear]."
On life on the road: "There's not much downtime, to be honest. I try to time my tours to my children's school vacations so I can take my family with me. That's part of integrating your life. I know people who never want to go home. I'd rather bring my home with me."
On recent comments by Simmons in Rolling Stone that he has two or three tours left: "I don't know that he was really saying two or three more tours for him. Could be, but I don't really think so. I think it was a more a sense of him realizing you can't do this forever."
On forays into art and starring in a Toronto production of "The Phantom of the Opera": "My vision is not very narrow. I don't have tunnel vision. It's a big world and the opportunities we all have are only limited by us. So to pick up a paintbrush or do theater, those are opportunities that don't necessarily lead to success, but they certainly are opportunities I'd like to explore. And very gratifyingly, most of what I've explored I've done exceedingly well at."
On his own health struggles from years of touring, including serious injuries to his shoulders, hips and knees: "I feel great. I guess it's like going into the auto body shop, I'm good for another 60,000 miles. I found that when I was fit, the better I felt (onstage and off).
But genetically, I'm pretty blessed. My dad's 94. My dad will be outside throwing baseballs for my (7-year-old) son to hit."
On writing the book and re-living highs and lows: "I have to say it was tremendous fun. When people talk about, was it cathartic to write the book, I go, 'No, it was cathartic to live the life.'
If an autobiography doesn't have some sort of redemption, coming to grips with things, if it's just a rambling travelogue, I'm not interested."
On what he's reading: "I've been rereading books that I read during the '60s. And I've been sharing them with my [19-year-old] son, which has been very interesting. To go back and read sort of counterculture books, Richard Brautigan, 'Illusions' and 'Jonathan Livingston Seagull' [by Richard Bach]."