Paul Stanley Opens Up About Overcoming Partial Deafness, Enjoys 40-Year Celebration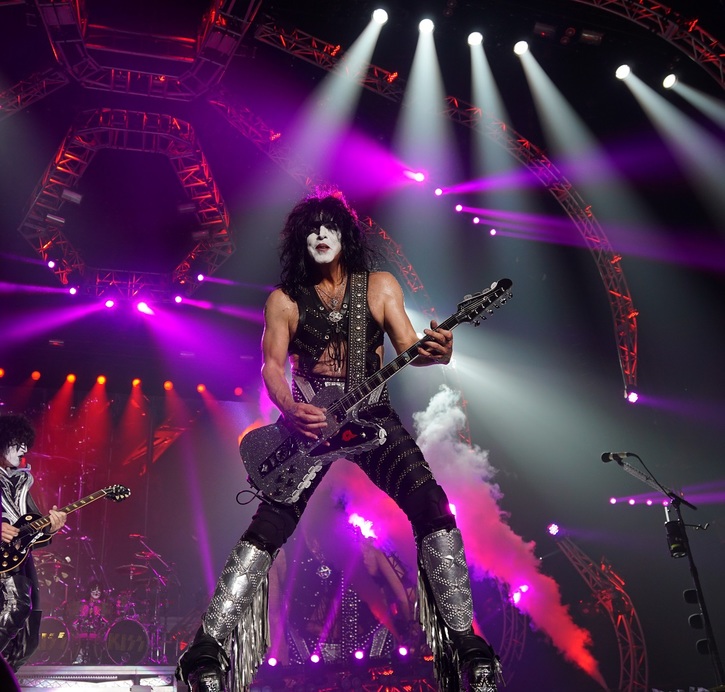 On Saturday, July 19, at 6:40 p.m. PT/9:40 p.m. ET, Yahoo Live will livestream KISS's concert from the PNC Music Pavilion in Charlotte, NC. Tune in HERE to watch!
Dealing with the TV and film dalliances of Gene Simmons, the multiple fragmentation of the original KISS lineup, and conflicts with everyone from former managers to the Rock and Roll Hall of Fame is nothing compared to the traumas and trials Paul Stanley faced in childhood — the most daunting of which was growing up with a rare condition, Level 3 Microtia, that caused most of the cartilage on his right ear to be missing.
Largely because of his physical appearance he was bullied and ostracized, and survived by withdrawing and living much of his life inside his head, all of which he documents in vivid detail in his new memoir, Face the Music: A Life Exposed.
"Many people in the same position will end up with either a shotgun in their mouth or a needle in their arm," Stanley tells Yahoo Music. "Really, it comes down a simple choice. Do you live as a victim, or roll up your sleeves and make a life for yourself?"
Even those who can't name the original members of KISS know the answer to the rhetorical question. Paul Stanley is one of the biggest success stories in rock music. As the band's main songwriter and vocalist for more than 40 years — not counting the time he, Simmons, ex-guitarist Ace Frehley, and former drummer Peter Criss spent in KISS predecessors Wicked Lester — Stanley helped pioneer the evolution of arena rock and, along with his bandmates, became icons of pop culture.
KISS has sold more than 100 million albums worldwide, and along the way Stanley has indulged in every whim and rock 'n' roll fantasy — which for him, has not included drugs and alcohol, something he has spoken a great deal about in the past.
Incredibly, Stanley rose to the top and crafted some of the greatest rock anthems and ballads while half-deaf. In 1982 he underwent reconstructive surgery and had a piece of his rib cage molded into a makeshift ear. Even so, he still can't hear normally. "As far as the music went, I never missed anything because you don't miss what you've never had," he insists. "I hear music the way I hear it. It's normal to me, but it's not the way you hear music. And one of the key issues is if there's a lot of noise I can't hear people talking in front of me because only one ear is taking all the sound in. And I also can't tell direction of sound. So if I'm driving and a fire engine is coming I could just as easily drive into the path of it as away from it because I don't know where it is. But that hasn't hurt me at all when it's come to writing songs for KISS."
At age 62, a time when many people's hearing is on the wane anyway, Stanley is still going strong. KISS were recently nominated into the Rock and Roll Hall of Fame and are touring with Def Leppard through August 31. Pretty much everything Stanley has strived for in his career has come to fruition. Interestingly, one thing he never wanted until recently was authorship of a book.
"I was adamant about not writing a book for decades," he says. "The world doesn't need another one of those 'look at me, I'm the coolest guy' nonsense that most autobiographies of entertainers tend to be. They tend to be overinflated, self-promoting, and, a lot of times, glaringly not accurate."
Stanley finally decided to sit down with co-writer Tim Mohr to discuss Face the Music because he's in a great place in his life, and wanted a document he could hand his four kids so they would understand where he came from and what it took for him to overcome the obstacles he has faced.
"Once I decided what kind of book I could write, it was very easy," Stanley says. "I don't want to say it was cathartic because the catharsis came before I wrote the book. Some people say it's such a great book because it's so intimate. I couldn't write a book if I was still in the midst of what was going on in the book. The book has a happy ending, and that's why it was worth writing. After I was done with it, my son read it, and he said, 'It's you. It's your voice, it's your humor. It's you talking.'"
As Stanley continues to celebrate the success of his first book, he's also excited about the release of KISS 40, a double-disc set consisting of 40 songs — one from every KISS release and four previously unreleased tracks (the 1977 demo "Reputation," "Deuce" live from 2004, "Cold Gin" live from 2009, and "Crazy Crazy Nights" live from 2010). Elsewhere, there's a career-spanning collection of songs, including the explosive 1975 live version of "Rock and Roll All Nite" from Alive, which took KISS to a new level of stardom, and the controversial disco song "I Was Made for Lovin' You" from the 1979 album Dynasty.
"I can't be anything but proud of ['I was Made for Lovin' You,'] a song that was a top five hit around the world," Stanley says. "I can't be anything but proud of a song that, in spite of people having ambivalent feelings, is still probably the biggest crowd raiser in Europe when we play it."
Having said that, Stanley admits "I Was Made for Lovin' You" came during a turbulent point in the band's career. "Towards the end of the '70s, we were in the midst of being lost and not quite knowing who we were anymore and losing sight of what we loved and why we got into this in the first place," he said. "We had problems within the band. Peter was basically a non-functioning member who didn't play on albums at that point — Ace being in all kinds of trouble with drugs and drinking and Gene being distracted by Hollywood and me looking for the same validation from the wrong people — we started looking for credibility from people who didn't matter. We already had the credibility of the people who did. 'I Was Made for Lovin' You' was a result of a lot of things going on and it was an experiment on my part that turned out very well even though some people didn't like the result."
While Stanley has a fonder place in his heart for some KISS albums than others, he says that together they tell a story of a band that followed its path, made mistakes along the way, but ultimately enjoyed far more triumphs than failures. "My sense was always that KISS was about having no rules and although I hold the fans in the highest of esteem, I also expect them to understand that everything we do may not be to their liking, and the way they can show us is by not buying it. And they've spoken loudly and clearly when they didn't like what we've done. But we couldn't have done Creatures of the Night if we didn't do Music From the Elder. I don't begrudge anything we've done because everything we do leads us to where we ultimately get."
Some KISS fans will always long for the reformation of the band's original lineup, which after the Hall of Fame debacle seems less likely than ever to happen. But Stanley insists his favorite lineup ever is the current one, which includes guitarist Tommy Thayer and drummer Eric Singer: "It embodies everything I've always wanted this band to be — a four-wheel drive car where everyone feels blessed to be there and works for the benefit of the band and also realistically works within what they are capable of doing and doesn't try to be anything more than that," he says. "It's been great and it's a lineup where we socialize and have a great time together and play fantastically onstage. It's really the band I've always wanted it to be. The original lineup was combustible, and combustibility is terrific until it implodes and that's unfortunate. The concept of combustibility is fine as long as it is harnessed. In the case of KISS it clearly led to the demise of the original lineup. That's life."