PAUL STANLEY TALKS ANNIVERSARY & TOUR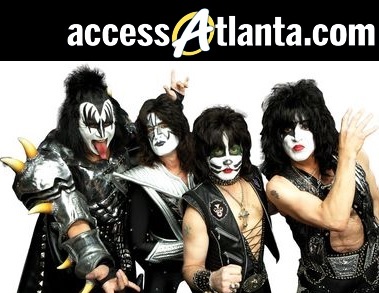 By Melissa Ruggieri
Break out the Aqua Net, dig out a real lighter and prepare to get rocked.
Kiss and Def Leppard will blow the (partial) roof off Aaron's Amphitheatre at Lakewood on Friday with a night of fist pumpers, chest hair (well, on Paul Stanley, at least) and an arsenal of pyro.
At recent shows, Kiss has sandwiched beloved singalongs such as "Shout It Out Loud" and "Rock and Roll All Nite" with fan favorites "Christine Sixteen" and "War Machine."
Def Leppard takes the stage before the costumed gods of thunder with a 75-minute set (keep an ear out for The Who's "Won't Get Fooled Again" and you'll know when the curtain is about to drop) that packs in 14 of its high-gloss anthems.
In a recent conference call with reporters, Kiss frontman Stanley noted that, "It's a source of pride for us that we can have a 6-year-old, a 16-year-old and a 60-year-old" at the same concert.
Stanley also chatted about Kiss' recent induction into the Rock and Roll Hall of Fame, his new memoir and why he thinks this is Kiss' best tour ever.
On changes to their live show for the anniversary tour:
"I believe this is the greatest and really the best stage that we've ever had. We took it through Europe and it was a huge success. We call it the 'spider' stage because the lights are actually in the shape of a spider and dangling down onto the stage and I wanted a stage where the lights and the stage were one, instead of having lights hanging from the ceiling. It's by far the best thing we've done. The band is firing on all cylinders. Between that and celebrating our 40th year, we're out there to do a victory lap, even though the race isn't over yet. This is a celebration of everything we've done to date."
On touring with Def Leppard:
"We've always tried to have great bands on tour with us, and now more than ever, we want to make sure that people get their money's worth and have a night of great music with songs that connect with you emotionally and serve as snapshots of time. It doesn't get better than that. Anybody can set off bombs and fireworks — all you need is money to do a good show — but nobody can be Kiss, and that's why we go on tour. (Our fans) are not even our fans, they're our tribe, and to bring Def Leppard along, they're just a great band."
On the controversy surrounding their induction into the Rock and Roll Hall of Fame (the band, voted in by fans, refused to perform because the Hall would recognize only the initial lineup of Kiss, not the other musicians who have played with the band in recent years):
"The Rock Hall was really not much more than a mosquito buzzing around my ear. Ultimately it was and always will be about our music and our fans, and no small organization with a big name can call the shots and decide what is or isn't valid or what does or doesn't belong in the Hall of Fame. No matter who may own the name, it's ultimately what the people decide."
On his recent autobiography, "Face the Music: A Life Exposed":
"I say it was cathartic living the life. It was great to document something that I believed could be inspiring to other people and have that not only confirmed by my reading it, but every day having people come over to me and say the book moved them and inspired them. That's the only reason for me to do anything."
Kiss and Def Leppard. With Kobra and the Lotus. 7 p.m. Friday. $36-$175. Aaron's Amphitheatre at Lakewood, 2002 Lakewood Way, Atlanta. 1-800-745-3000