KISS celebrates 40 Years with summer tour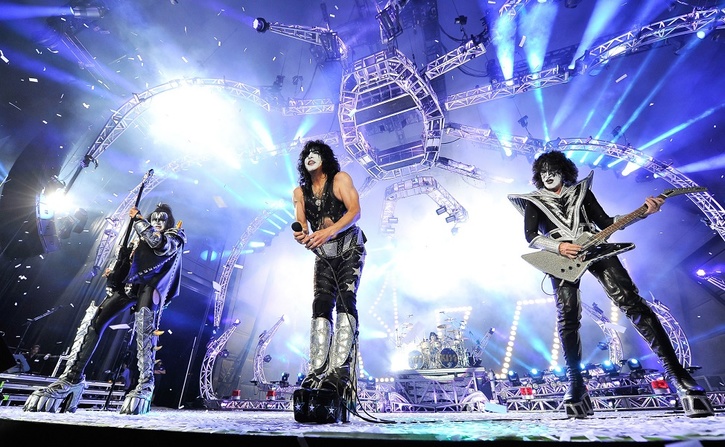 By JOE SZCZECHOWSKI, 21st Century Media
In celebration of its 40th anniversary, American rock legends KISS are in the midst of a summer tour that lead vocalist and rhythm guitarist Paul Stanley calls "a victory lap."
"To be able to have the privilege of going out on stage and performing 40 years on is incredible," Stanley said in a recent interview. "This is a vindication and a huge celebration for us and our fans."
On the tour, which stops tonight at the Susquehanna Bank Center in Camden, N.J., Stanley and his bandmates — Gene Simmons (lead vocals and bass), Eric Singer (drums and vocals), and Tommy Thayer (lead guitar and vocals) — are being joined by special guests Def Leppard. The Dead Daisies open the 7 p.m. show. Tickets are available at ticketmaster.com.
It's been a good year for Stanley and KISS. On April 8, Stanley's autobiography, "Face the Music: A Life Exposed," was released to positive reviews. It landed at No. 2 on the New York Times "Hardcover Nonfiction" best-seller list. Later that week, KISS finally received its long overdue induction into the Rock and Roll Hall of Fame. In May, the band released "KISS 40," a two-disc retrospective album. On Aug. 12, "4th and Loud," a new television series documenting Stanley and Simmons' foray into Arena League Football as co-owners of the LA KISS, premieres on AMC. A few weeks ago, KISS confirmed its first Las Vegas residency. "KISS Rocks Vegas" will see the band perform nine shows at The Joint inside the Hard Rock Hotel and Casino Nov. 5-23.
If all that weren't enough, reviews of the current North American tour with Def Leppard, which wraps up in Houston Aug. 31, have ranged from positive to positively glowing. Stanley made it clear that even after 40 years, KISS is not about to rest on its laurels.
"Going out on this 40th anniversary tour is a way for us to restate who we are, put our 8-inch heels firmly back on the ground, and let people know that the legend lives — that everything they've heard remains true," he said. "This is a band unlike any other band, and you only have to come see us to know it."
The current tour is the first time fans in the U.S. will get to see the unique and interactive "spider stage" that Stanley designed for last year's European tour in support of the band's 2012 "Monster" album. Fans can also expect all of the bells and whistles that are a KISS trademark — levitating platforms, pyro, explosions, fire breathing, and band members flying over the audience. But Stanley pointed out that all of the visual effects would mean little if KISS wasn't first and foremost musically a great band.
"Ultimately, it's got to be great music," he said. "Anybody can set off bombs and fireworks and all the rest. Any band with money can do a KISS show, but no other band can be KISS. We are a rock band and have always been a rock band. Our roots are in bands that we loved growing up. We enhanced it with a great show, but ultimately nobody will buy — for decades — music that isn't good. The songs have stood the test of time."
Fans can expect to hear classics like "Shout It Out Loud," "Deuce," "Love Gun," "Detroit Rock City," "Black Diamond," "Lick It Up," and of course, "Rock and Roll All Night." Sometimes criticized for a stagnant set list, the band has been switching songs in and out more often on this tour than in the past. Rarely-heard songs like "King of the Nighttime World," "Makin' Love," "War Machine," and "Hide Your Heart" have been performed over the past few weeks.
Stanley said Def Leppard is a perfect fit as an opening act for KISS.
"We've always tried to have great bands on tour with us. Now more than ever, we want to make sure that people get their money's worth," he said. "To bring Def Leppard along means that everybody gets to hear a huge catalog of songs that were all hits and that all mean something to them. Def Leppard is just a great band and it's a great way to spend an evening during the summer."
As it has in the past, KISS is once again supporting the U.S. military on the current tour. KISS and Def Leppard have hired two veterans as roadies for the tour, and are donating a portion of the proceeds from the tour to the Wounded Warrior Project, an organization that assists injured service members.
"We have been very vocal over the years about our obligation to our troops and to the people who serve voluntarily and put themselves in harm's way so that we can live in a free society," Stanley said. "I can't say enough about the people who serve on our behalf. What we do wouldn't be possible without what they do. I love being on stage and letting people know that there's nothing corny about patriotism; there's nothing corny about celebrating this great country."
There was a time when being a KISS fan could get you ridiculed by, ostracized from, or in a fight with other music fans. Rage Against the Machine and Audioslave guitarist Tom Morello reiterated that fact in his passionate and eloquent Rock and Roll Hall of Fame induction speech. KISS was despised by critics, feared by parents, and literally demonized by some religious zealots. As Morello said, "KISS was never a critic's band. KISS was a people's band."
"Over time, the people on the street became the critics; the people on the street became the executives; the people on the street outlived the critics," Stanley said. "That's part of our victory celebration — the fact that we have outlived the critics and the naysayers — and in essence our fans have taken over."
KISS fans, or the KISS Army, as they are known, are among the most avid, most dedicated fans in music. Many have stuck with the group through good times and bad over its entire 40-year history.
"It's incredible to come back to cities and see multi-generations of fans. It's a source of pride for us that we can have a six-year-old, a 16-year-old, and a 60-year-old in the audience, and we're all part of this tribe," Stanley says. "I think you can't have the kind of dedication that we have from our fans unless they sense the same dedication to them from us. The only way that you can be in KISS is if you have the ultimate respect, not only for the band, but for the fans, because they're intertwined. We may not always do what makes every fan happy, but we stick to our guns and we do what we believe in."
Stanley believes there's a reason classic rock artists like KISS appeal not only to older fans, but to a growing segment of young fans as well.
"The reason people still buy tickets to see the classic acts is because you know we will deliver the goods," he says. "There are countless acts nowadays that have downloads in huge numbers, but you don't want to go see them live, because they haven't learned their craft. They sing on a song that was put together in somebody's living room on a computer and then auto-tuned. You know damn well that those people are not going to be able to put on a show.
"The ones who have enough money to put on a great show are invariably dependent upon a bunch of dancers jumping over each other and a microphone that isn't turned on," he adds. "I don't want to hear this nonsense that it's impossible to dance around and sing. It didn't stop the Temptations. It didn't stop Ike and Tina Turner. It didn't stop James Brown. When you come to see KISS, you know that you're seeing the real deal – something that has been proven time and time again."
Some things have changed for Stanley and KISS. Once a rock and roll bad boy, he's now a married father of four.
"Clearly there was a time when backstage was hedonism at its finest," he says. "When you're given the keys to the candy store you tend to eat a lot of candy. I certainly had a sugar high. Over the years that obviously changed. I now look over to the side of the stage certain nights and see my little ones in their pajamas waiting for the show to be over to go to bed."
Stanley says his primary motivation for performing with KISS has not changed, however.
"The core of why I got into this and the reason the band got together in the first place was to make music," he says. "I think we've all grown into a different realm of our lives. I've got a family and the Bacchanalia that was backstage at one point is not there anymore. But the celebration at the core of it – which is celebrating life and the freedom to be who you are – has never changed."