KISS & DEF LEPPARD GET WET, ISSUE A-LIST CHALLENGE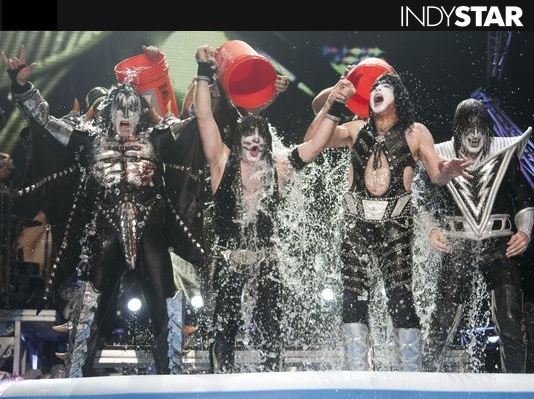 Rock bands pledge $20,000 to ALS Association at Klipsch Music Center
By David Lindquist
Members of KISS and Def Leppard closed out their Friday night show by executing the ALS Ice Bucket Challenge onstage at Klipsch Music Center.
The rock bands then called out some of the biggest names in music to join the fundraiser that's generated more than $53 million in donations to the ALS Association.
KISS vocalist Paul Stanley challenged Elton John, Rod Stewart and alternative-medicine advocate Deepak Chopra. Def Leppard vocalist Joe Elliott challenged Prince, U2 and Whitesnake vocalist David Coverdale.
Buckets were dumped at Klipsch after members of Motley Crue challenged KISS during a recent show in Virginia.
At Klipsch, KISS and Def Leppard each pledged $10,000 to the cause of researching treatments and a cure for motor neuron disease Amyotrophic Lateral Sclerosis.