4TH AND LOUD BRINGS YOU KISS, FOOTBALL AND DANCERS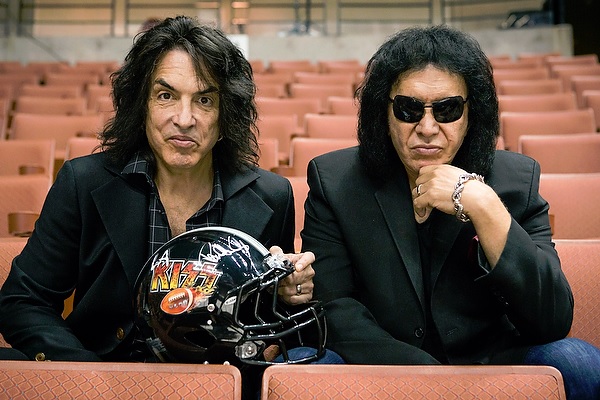 By Paul Adkins / www.LoganBanner.com
Let me start by saying that I've never really been much of a fan at all of the Arena Football League, reality TV or of the 1970s/80s rock band KISS.
The new AMC reality show "4th and Loud" is made up all all three but it has got me hooked.
It is now TIVO'd.
I've set it up for a season pass.
Done.
For those of you who might be unaware of the reality TV show, "4th and Loud" gives you a behind-the-scenes look at the Arena Football League's expansion team, the LA Kiss, which is co-owned by KISS band members Paul Stanley and Gene Simmons.
The docu-series, which debuted on Aug. 12, chronicles the struggles of a cobbled-together expansion indoor football team through a rough first season.
Stanley and Simmons and the team's management offer up their vision of a business start up: a unique and eclectic mix of football and a KISS rock concert blended into one at Anaheim's Honda Center.
The LA KISS play on an unusual silver football field.
With the loud rock music, the flashing lights and the pyrotechnics you would think you were at a KISS concert.
That's the idea.
Then there's the women.
Eat your heart out XFL cheerleaders.
The LA KISS cheerleaders are not cheerleaders in the classic sense. They are dancers. Scantily-clad in black leather skirts, fishnet stockings and black boots, the women perform their dance routines and entertain the crowd at each home game. If it were 1979, the LA KISS Girls might have been KISS roadies.
"We have great dancers, and they're not cheerleaders," Stanley tells Entertainment TV. "Cheerleaders have almost become adolescent. We wanted to have girls who were women. And they'd better dance. I don't want the girl next door, I want the girl you wish were next door."
At one point in one of the early episodes, the LA KISS kicker seems to be distracted by one of the beautiful blonde cheerleaders, um, dancers. He misses four kicks in a game and the following week the team holds open tryouts at kicker.
He's told not to fraternize anymore with the dance team member.
The kicker's girlfriend also catches wind about the lovie-dovie-ness between the two and is not thrilled.
The LA KISS kicker, though, outperforms his rivals, stays away from the dancer (for the most part) and keeps his job.
Fourth and Loud, however, is about football.
Stanley and Simmons, however, make no qualms about it.
They are not big football fans and their knowledge of the game is very limited but they seem to care about the players and they, of course, want to win.
The band members go to visit an injured LA KISS player, who the week before had torn his ACL and would likely be out of action for more than a year.
"Make sure he gets everything that he needs," Simmons says upon leaving.
But at the same time, the band members are also businessmen and are very blunt.
A team marketing director shows Simmons and Stanley KISS bobbleheads which would be given away at a game the next night.
The KISS members don't care for the likenesses, or lack of.
"The design elements are horrible! Do you know what's interesting? We never saw these until now," Simmons said.
Stanley and Simmons have branded their KISS name on a product, a team, a form of entertainment and have stuck their neck out so losing is no option.
Continued losing could hurt ticket sales and the buzz created about the whole endevaour could fade away.
"(Losing) is very disheartening," Stanley said. "For somebody who was not from a sports background, look, in life I don't like to lose. There are parts of this that are completely out of my hands, so you have to be able to let go. Losing is disappointing. But winning is exhilarating. I would love for us to win, and that will take longer than we thought."
Often times in the series, LA KISS head coach Bob McMillen, himself a former Arena Football Player and a member of the AFL Hall of Fame, butts heads with the team's front office and many times fears for his job as the losing mounts.
After this week's episode, we know the LA KISS are 3-9 with six more games to play.
Stanley and Simmons are thrilled after the LA KISS beat Portland at home.
But we know this wild excitement will only be short lived.
We know (SPOILER ALERT) how the rest of the season went.
The LA KISS finished a woeful 3-15, losing their last six games, and tied for the worst record in the league.
Despite the bad season, Stanley and Simmons seem to be on board for another season in 2015.
Always the savvy businessmen, the KISS band members have the ultimate gimmick — a smart one at that — a free KISS concert at season's end for season ticket holders.
This year's free concert is October 29, the team's website says. Another is planned at the end of the 2015 season.
The TV show offers a little bit of everything.
For football fans, it's about the struggles of putting together a winning team.
For reality show fans, it's fun and interesting to watch.
For KISS fans, it's a chance to see Simmons and Stanley in a way you have never seen them.
Yes, the makeup is off.
This may be a shameless plug but here it goes …
Fourth and Loud can be seen at 10 p.m. on Tuesday nights on AMC.
Shout it out out loud.
– See more at: http://www.kissonline.com/news?n_id=121327#sthash.t2oP0UKX.dpuf