KISS RAISE OVER $1 MILLION FOR OREGON MILITARY MUSEUM AT ACOUSTIC CONCERT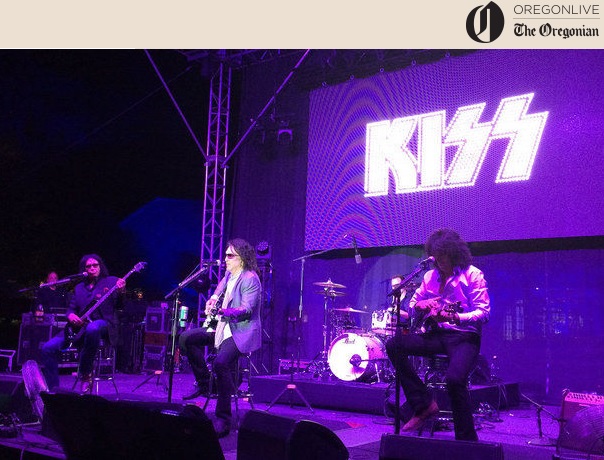 By David Greenwald / http://www.oregonlive.com/music/index.ssf/2014/09/kiss_oregon_military_museum_concert.html
Where would KISS be without their makeup and electric guitars, without the arena fireworks that still draw tens of thousands to their shows?
On Sunday night, the answer was Lake Oswego. To raise money for the renovation of the Oregon Military Museum, the Rock and Roll Hall of Fame quartet shed their makeup for a rare acoustic set, performing at a charity gala at Rick and Erika Miller's Jantzen Island estate.
The event was the third "All Star Salute" that members of the group have been involved in — though the first that's been graced with a KISS performance. The $15 million museum is a project close to KISS lead guitarist (and Oregon native) Tommy Thayer's heart: It's set to be named after his father, Brigadier General James B. Thayer, now 93, a World War II hero who liberated a Nazi death camp in 1945. As Mike Francis has reported, his actions may have saved KISS bassist Gene Simmons' mother, Flora Klein, who survived one such camp at the same time — which, exactly, has been lost to history.
KISS and the Historical Outreach Foundation had hoped to raise $1 million at the intimate event, a number they beat on Sunday after a successful charity auction that saw Paul Stanley selling off one of his beloved guitars, played since 1989, for $20,000, among other prizes. Tickets to the evening ran $2,500 a person.
The Museum broke ground at Clackamas' Camp Withycombe earlier this year, and is now halfway toward its $15 million fundraising goal.
Before the festivities and during the show, KISS spoke of their commitment to the military and the "obligation" of supporting the Museum's cause, but it was hardly a somber evening: drinks flowed and Stanley beckoned the small crowd to the front of the stage — and then onto it — in between tossing out an endless supply of guitar picks to the crowd. The band's gone acoustic before, most famously in an MTV performance released in 1996, and Sunday's set ran through rambunctious renditions of many of their "Unplugged" songs, including "Comin' Home," "Plaster Caster," "Beth" and, of course, "Rock and Roll All Nite."
Here's the band's full set list below. Look for interviews with Tommy Thayer and more shortly.
1. Comin' Home
2. Hard Luck Woman
3. Calling Dr. Love
4. Do You Love Me?
5. Plaster Caster
6. Shout It Out Loud
7. Got to Choose
8. Christine Sixteen
9. Lick It Up
10. Goin' Blind
11. Love Her All I Can
12. Hide Your Heart
13. Beth
14. Rock and All All Nite
– See more at: http://www.kissonline.com/news?n_id=121275#sthash.ANI9Uhcu.dpuf