PAUL STANLEY KISS KRUISE IV EXCLUSIVE GUITAR AND INTIMATE Q&A AVAILABLE NOW!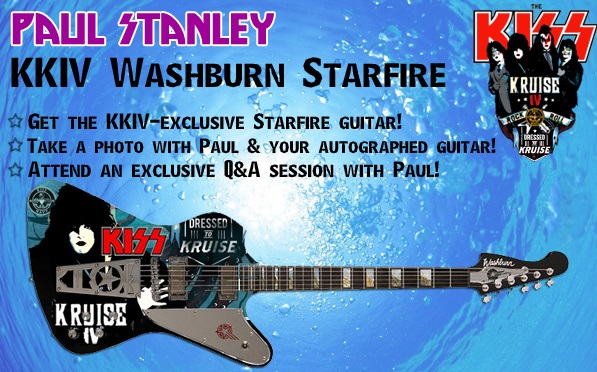 Paul Stanley is offering up to 25 members of the KISS Navy a very special Guitar + Q&A opportunity aboard KISS Kruise IV!
The guitars are on sale now at  www.paulstanleyguitars.com/guitars_2014_kkiv.html
Here's what you get:
– A Paul Stanley Limited Special Custom KISS Kruise IV Washburn Starfire Guitar autographed to you, in person, by the Starchild!
– An intimate Q&A session aboard the KISS Kruise IV with Paul Stanley. This event is open ONLY to buyers of this guitar and their guests. You are allowed to bring up to 3 guests to attend the Q&A.
– A photo with Paul and your new guitar! (If you'd like your guests in the photo too, they're welcome to join you!)