KISS Blows Into Vegas For Their New Residency at the Hard Rock Hotel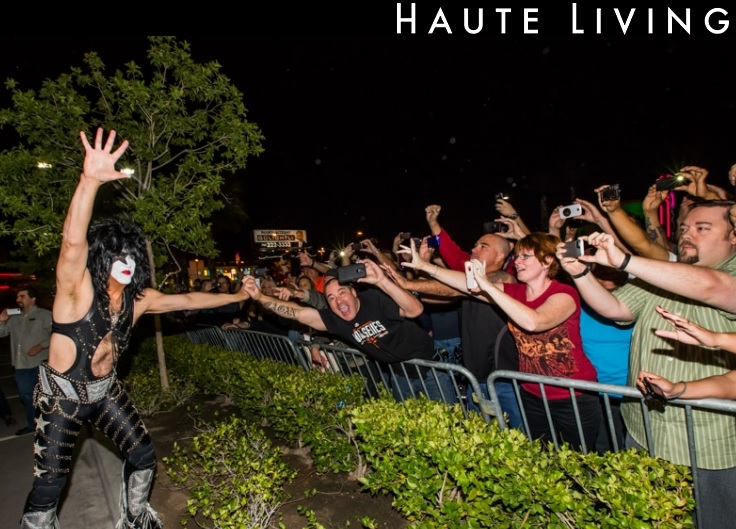 by Susan Stapleton
Photos: Erik Kabik/Erik Kabik Photography
Legendary rock band KISS blew fans away with an over-the-top Maverick Helicopters arrival outside of Hard Rock Hotel to launch their nine-show residency, KISS Rocks Vegas, at The Joint on Wednesday.
Band members Gene Simmons, Paul Stanley, Eric Singer and Tommy Thayer were welcomed by more than 1,000 screaming, costumed and face-painted fans as they cheered in excitement for the epic aerial arrival. While outside, KISS posed alongside the helicopter for photos with Hard Rock Hotel's Chief Operating Officer Jody Lake and Vice President of Entertainment Chas Smith; AEG Live Las Vegas' Vice President John Nelson and Vice President of Booking Bobby Reynolds; the "Roadie for a Week" winners Master Sergeant Jason Borkuis of Nellis Air Force Base, Sergeant First Class Cory DeMille of the U.S. Army Reserve and Technical Sergeant Richard Reichert of Nellis Air Force Base; and the combat-wounded hero recipient of the newly-renovated, mortgage-free home John Hosea and his wife Sarah. The band then headed inside the music venue to kick off their sold-out show.
"Vegas! You wanted the best, now you've got the best," yelled Stanley as he, Simmons, Singer and Thayer hit the stage. Concertgoers screamed in amazement as the foursome rocked out an amazing set list including fan favorites "Detroit Rock City," "Love Gun" and "Lick It Up." In true KISS fashion, the band's production was unlike anything The Joint has seen before. The setup featured large LED screens spread across the ceiling and down to the floor, crazy pyrotechnics, lasers and more. The crowd was amazed as Simmons breathed fire and spewed blood from his mouth, Stanley flew across the venue and performed on hanging, balcony-side platforms, and Thayer shot out fireworks from his guitar.
Before starting the encore, KISS furthered their commitment to helping veterans by coming back on stage with Dr Pepper Snapple Group, Military Warriors Support Foundation and Chase Bank to present retired U.S. Army Staff Sergeant John Hosea and his wife Sarah a newly-renovated, mortgage-free home in Las Vegas. Hosea is a combat-wounded hero who enlisted in the military in 2001 and has received many awards including the Purple Heart, Combat Infantryman Badge, Afghanistan Campaign Medal with Campaign Star, five Army Achievement Medals, Global War on Terrorism Service Medal and more. The band and crowd honored him by saying "The Pledge of Allegiance" and broke out into a "USA" chant.
KISS ended the show with their biggest hit "Rock And Roll All Nite" as confetti poured over elated fans and filled the 4,500-person venue.