KISS takes to the air, salutes military in Joint debut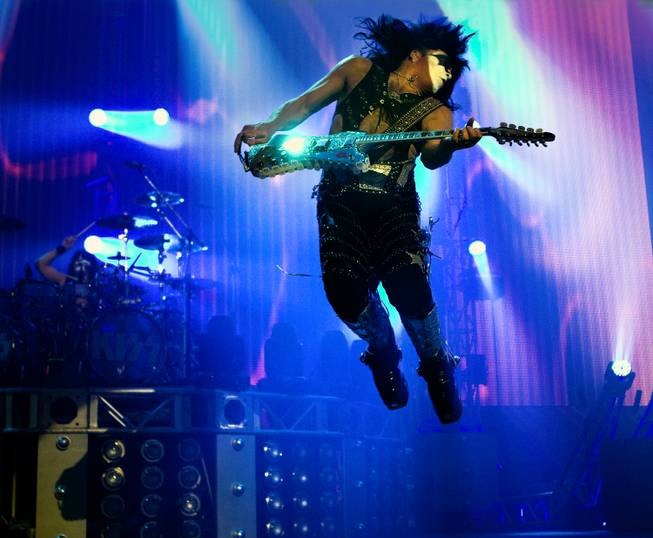 By Robin Leach / Las Vegas Sun
America's top rock and roll group KISS started their nearly monthlong residency at the Joint in the Hard Rock Hotel on Wednesday via a Maverick Helicopters ride in the hotel-casino's valet parking lot, and Gene Simmons and Paul Stanley minutes later were flying through the air inside the Joint during their action-packed premiere.
Gene was the first to fly from the stage up to a circular stage suspended from the rafters above the audience, and Paul followed making a full circle on a track built into the ceiling. He stopped at two mini-platform stages built out from the balconies in the Joint breaking his song into two.
For a moment, I feared that he'd fall from his dangerous acrobat's single-wheel device, and he even double-checked for safety.
Against an ever-building, ear-blasting crescendo of fireworks, flames, smoke and other pyro explosions, the foursome with Tommy Thayer and Eric Singer proved why they're still on top as the best and celebrating their 40th year in entertainment.
KISS, which formed in 1973, has sold more than 100 million records worldwide with 28 gold albums, making them one of the world's bestselling groups of all time.
At my age, I'm not really a rock and roll concert fan, but this heavy glam metal production was a treat from the moment the billowing smoke cleared to reveal drummer Eric high up on levitating mobile scaffolding. Gene didn't disappoint with his blood-spitting, long-tongue-twisting antics or his aerial ride.
Paul promised in our Q+A posted Oct. 29 a unique arena-type show in the more intimate Joint theater, and the boys delivered big time. They're here for a run of nine concerts through Nov. 23, and it's going to be as much fun as they promised.
But there was a beautiful and serious side I never expected. Who goes to an outrageous rock concert and recites the Pledge of Allegiance? Who goes to a rock concert and gives a standing ovation to America's wounded warriors and military servicemen?
Four thousand KISS Army supporters cheered as Paul and Gene invited members of the military onto the stage. Working with Wal-Mart and a Wall Street bank, they presented a serviceman who fought in Afghanistan and his wife a mortgage-free, refitted home here in Las Vegas as a thank you for their service.
It brought wild cheers and applause from the crowd, many of whom were in KISS makeup. Gaming commission reminders have been set up throughout the Hard Rock that fans in KISS makeup and costumes won't be allowed to play table games because it doesn't match IDs.
Another warning: Many fans came over to me to ask I report that they'd bought scalper tickets from Craig's List that turned out to be fakes. Some bought new, last-minute, box office tickets, but others sadly walked away.
It was a three-generation night at the show, from grandchildren to grandparents. It was a five-star show right from when military greeted KISS on arrival. Three servicemen from our Nellis Air Force Base — Master Sgt. Jason Borkhuis, Sgt. First Class Cory DeMille of the U.S. Army Reserve and Technical Sgt. Richard Reichert — will act each week of the residency as guest roadies for the band.
Another highlight for me was the never-ending confetti streams of KISS paper that were shot from the ceiling to close the show. It was so thick you couldn't see the ceiling as it blew down.
It was the largest confetti shower I've experienced at a Las Vegas show or nightclub. As the show ended, it look liked three inches of snow had fallen in the Joint.
Fans get a chance to meet up close with Gene when he does a book signing at KISS By Monster Mini Golf across from the Hard Rock on Nov. 21. Paul has book signings at the Hard Rock this Saturday and again Nov. 15 and Nov. 22.
As I reported Wednesday, ticket sales have been moving at such a high rate that there's already talk of a second-residency return next year.
"We've been waiting a long time to play Las Vegas," said Paul. "Now this is it in our own rock city. You wanted a show. We wanted a show, and finally we've got the best one yet for you."
There was no arguing over that. KISS was at its finest as rockers and entertainers. Whoever thought I'd be bowled over by a 40-year rock band still going stronger than ever?
There were rumors Wednesday night that Gene arrived at the helicopter-landing pad via limousine and the other three snuck into the flying machine from the other side under cover of darkness.
There was no question, though, that fans turned out in full force for the ceremony — and no doubting Gene and Paul's flying ability once inside the Joint for their show.
BTW, KISS souvenirs are on sale at the new pop-up B-Side boutique set up for their high-decibel blast of a run. Don't forget your earplugs if you have sensitive hearing.