Kruisin' on the High Seas with KISS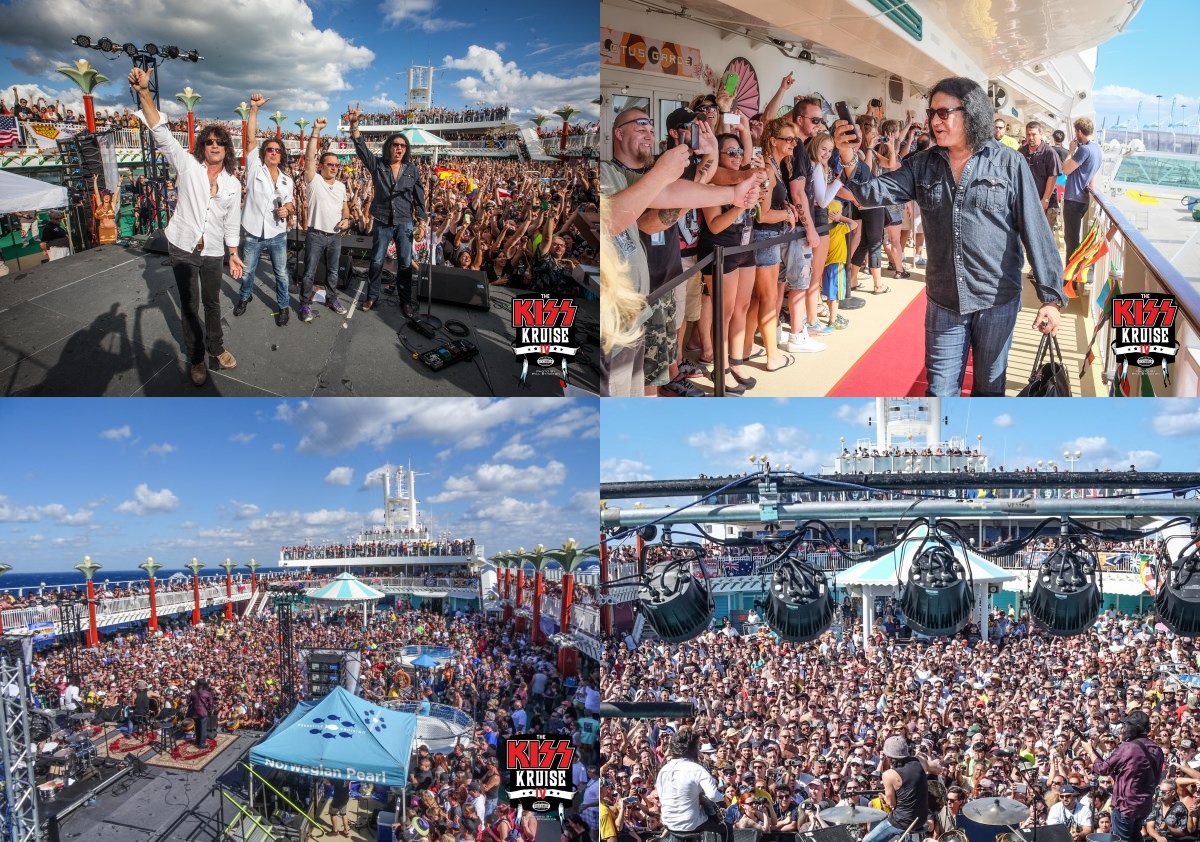 Written by: Ken Sharp / Rock Cellar Magazine
Over the past 10 years, music-themed cruises have become big business raking in millions of dollars each year, beckoning a whole generation to come sail away.
All genres of music are duly presented on these monstrous oceanic vessels of rock servicing the divergent tastes of music fans with cruises showcasing artists like Kid Rock, Weezer, Lynyrd Skynyrd, Heart, John Mayer, the Moody Blues, Yes, The Who's Roger Daltrey and more.
In many ways, the music cruise is the new frontier for the baby boomer crowd. It's like summer camp for adults with copious amounts of alcohol flowing 24/7 and the food is much better.
And I'm one of over 2300 passengers from 33 countries spanning the globe setting out from Miami, Florida on KISS Kruise IV, a 4-day excursion to the Bahamas. Yet for most on board, the sunny spoils of paradise are secondary; we could be headed to the outer reaches of frozen Antarctica and the same loyal contingent of KISS krazies would likely attend.In this case, the destination is unimportant.
The magnet drawing everyone together are the hottest band in the world, KISS and they're here to celebrate the axiom of the band's immortal rock anthem; yes, you guessed it, to rock and roll all nite and part every day.
Straddling white and blue collar professions, from plumbers to pit bosses, mechanics to morticians, accountants to attorneys, those who climb aboard the KISS Kruise come from all walks of life. And while there's a divide due to the social and cultural differences, the universal language they all speak is KISS music; it's the rock and roll glue that binds them all together.
Now in its 13th year, Sixthman, the premiere travel cruise company, is hosting this bash. Over the years, they've fine-tuned their music theme cruise brand to sleek perfection, entertaining over 130,000 passengers and tallying over 600,000 fun-filled days on the high seas.
According to Alaidriale Derway, PR & Communications Manager for Sixthman, "we're all about the guest experience–that comes first in every way. Our goal is to break down the barriers between bands and their fans, as well as introduce our guests to emerging artists that often become favorites. We don't do the whole VIP thing- we feel like everyone should have the same amazing experience and that everyone is entitled to the best. We encourage our artists to interact with the guests as much as possible, from hosting events, to late night DJ sessions, to just walking around the ship and enjoying the event."
"We set the expectation that guests and artists are one big family and should treat each other as such. We try to shy away from the standard format of autograph signing and meet and greets as much as possible, in favor of more organic and intimate experiences between artists and fans. Another thing that I think really sets Sixthman apart is that our events are built by the community for the community. When our artists have a vision they want brought to life, we will do anything we can to make that happen. We build upon surveys and guest feedback to really shape what our guests are looking for."
As for the allure of a music cruise for those who have not taken the plunge, Derway further explains: "I always ask: Have you ever been to a big music festival? Standing in line for bathrooms, huge crowds, mud, overpriced beer, and trying to get anywhere near the stage to see your favorite artist… it's a huge test of patience! On a cruise, you have everything you need right there. You have your favorite band playing in an elevator–true story!–or standing next to you at breakfast, you have shows going on all the time, just like a big festival, but you can actually see the band, sometimes so close you need to back up!"
"Plus, you're on a ship with just a little over 2000 people who are into what you're into- it's an experience that can create friends for life. There's luxury accommodations, food as far as the eye can see, and music almost 24/7. Plus, you're sailing through the Caribbean. Really, what more could you want? As for the KISS Kruise, it's a one-of–a-kind, once in a lifetime experience – even for the fan that has everything! And each year is new and different theme wise, so it's always fresh. This year's "Dressed to Kill" theme is pretty spectacular."
There's a tangible excitement in the air. Sold out for months, KISS Kruise IV is already a success judging by the mile wide smiles plastered on the faces of arriving passengers from all over the world—England, Spain, Brazil, Japan, Sweden, Denmark, Russia, South Africa, Italy, Switzerland, Germany, France, Australia, Norway, Finland, the Netherlands, Argentina, Costa Rica, Holland, Canada, Chile, Austria, Colombia, Peru, Belgium, Iceland, Saudi Arabia, Slovakia, Ukraine, Bolivia and New Zealand are among the countries represented.
Young and old(er), they happily scamper onto the ship in anticipation of the trip of a lifetime. Brisbane, Queensland, Australia residents, Chuck and Roz Cartwright flew over 30 hours to be here. "This is our second kruise," says Roz. "Come January we're counting the days until the next one. Meeting all the other KISS fans from around the world, that's the biggest joy for me. The whole world unites on the kruise as one big KISS family." Her husband, Chuck, who serves as a soldier in Australia, agrees: "The friends you make on the kruise make this special for us. Bloody hell mate, the only downside to the kruise is that it's not long enough (laughs); you want it to keep going and going!"
Greg Hounshell, 44, is a real estate agent based in Wytheville, Virginia. This is his third passage on the KISS Kruise. Happily married with two children, the kruise is his ticket to freedom, well at least for a few days. "For 360 days of the year I wear the hat of husband, father, and businessman," says Hounshell. "I live in a small town in southwest Virginia. The population is around 8,800. Life moves at a leisurely pace – work, homework, sports and school for my two boys. But for one week out of the year, I enjoy a different role: that of a music lover and KISS fan.
"The Kruise gives me the chance to experience adventures and activities that just aren't available where we're from. For these five or six days you immerse yourself in concerts and friends and food and drink and trips to fun places far outside your everyday life. Once you board the ship, Toto is no longer in Kansas. With Paul, Gene, Eric, and Tommy serving as hosts you live the surreal reality of "Rock and Roll All Day, Party Every Night."
Back on board for his third KISS Kruise is Chris W. Royer, a 50-year-old attorney based in Fort Lauderdale, Florida. Chris explains the lure of his rockin' adventures at sea, "The Kruises are an opportunity to relive the enthusiasm and innocence of my days as a teenage fan. They allow my wife and I to "fan-out" in a cocoon where KISS is the sun and we are the planets. The band, for their part, seem to shake off the yoke of jaded and wizened rock icons for the 4-plus days. On board, they smile and laugh as one staves off the bittersweet reality it will have to end it at some point– some time sooner than later. We love it all: the over-the-top fan exuberance, the splash of colors and foreign flags, the campy geekdom that pervades everything. We'll keep coming back."
Florida based entrepreneur, Brad Estra, one of the world's foremost KISS collectors, brought his son, Mason, 9, to KISS Kruise IV. It's a rite of passage for both father and son. "It's like going to a family reunion of over two thousand people," remarks Estra. "Last night my son met a guy from Scotland in a kilt (laughs) and he's also made friends with fans from Sweden and Scotland." Brad's, son Mason adds: "It's really cool to be able to meet people all over the world." Scott, 45, a Palm Beach County government official affirms the sense of brotherhood between nationalities and cultures. "Some speak English, some broken English and others speak no English at all. You communicate through your love of KISS, share a beer and tell stories."
Walking into the main dining room, I run into three Swedes wearing matching bright yellow KISS Army Sweden t-shirts who are enjoying their 4th KISS Kruise. What keeps them coming back? "With each kruise I make more and more friends and I look forward to having a reunion with them every day," remarked Markus Ek, a 48–year-old industrial technician from Gothenburg, Sweden.
And while KISS are the clear headliners everyone came to see, fans are treated to a wide spectrum of quality live music rockin' the vessel from an array of formidable artists, most notably Cheap Trick lead singer Robin Zander (one of the band's biggest hits, the smash '70s anthem Surrender famously name checked KISS, "got my KISS records out…") who performed three acoustic sets comprising solo material, covers (The Beatles, Rolling Stones, Neil Young) and seldom if ever played Cheap Trick jewels like Y.O.Y.O.Y, I Don't Love Here Anymore, and Love Comes. Popular '70s rockers the Pat Travers Band is on board as are a legion of lesser known acts like the all girl KISS tribute band, PRISS, Big Rock Show, and CRUED, a Motley Crue tribute group hailed by lead vocalist Vince Neil as "a Motley Crue tribute band that goes through the pain of doing it right … or don't do it at all."
Of course, one of the major draws of a music cruise is the up close and personal interaction with their musical idols. "We really do everything we can to break down any barrier between fan and artist," Sixthman's Derway attests. "The artists that we work with do an event like this because they want to do something special for their fans – create an experience that they can't get anywhere else, and celebrate their most passionate fans especially."
"By taking away the notion of VIP or autographs, you're basically putting everyone on the same playing field, which makes artists more approachable and human for the fans and the fans more approachable for the artists. If you know you're not going to get mobbed the second you come out of a show, you're a lot more likely to just go hang out – and our artists really do. It is completely commonplace to see huge artists at a show or at the casino playing blackjack or even at one of the bars talking to a guest. Changing the dichotomy between those two worlds makes it much easier to have a relaxed and engaging experience."
CLICK HERE to read the rest of the article and view more KISS Kruise photos.