Kingmakers In Makeup: 15 Future Metal Superstars That Opened For KISS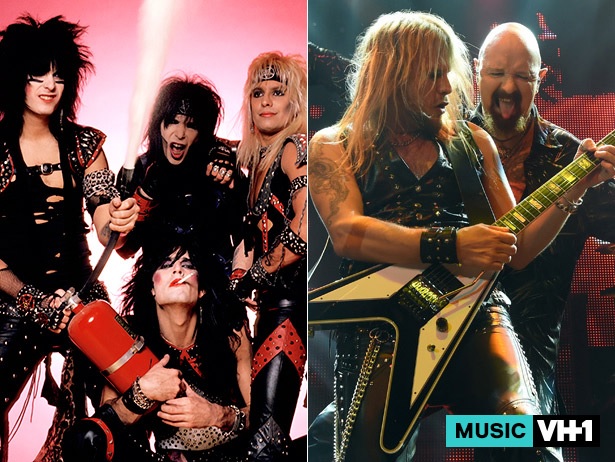 From their earliest tours onward, Kiss's Paul Stanley and Gene Simmons prided themselves on selecting their opening acts. So for all the shock and awe properly heaped upon Kiss for their larger-than-lust, louder-than-life concert spectaculars, one aspect that gets overlooked is the group's peerless skill as talent scouts.
As with each live performance's (in)famous costumes, sets, fire, blood, lasers, thunder, lightning, robotics, and earth-shattering amplification, Kiss understood straight away that the first special effect to either grab or lose an audience immediately would be the musical act that kicked off any given night's proceedings.
So for thirty-one tours over the course of forty years, Kiss has broken dynamic new talents to their massive, ferociously loyal fans that now spans multiple generations. The number of Kiss openers who became world-class headliners themselves is astonishing. Here's a chronological look back at fifteen of the biggest and the best.
Rush – 1975
1975 was a crucial year for both Kiss and Rush, so it was fortuitous for the two decidedly unique entities to come together.
Kiss struggled on the brink of extinction until the September release of their mega-platinum mainstream breakthrough album, Alive! Rush transformed as drummer Neil Peart took the lyrical reigns and the group issued the two albums that set the boilerplate for their superstardom to come: Fly by Night and Caress of Steel.
As a result, the Dressed to Kill tour began in 3,000 to 5,000 seat venues and, about sixty shows later, the bands were playing arenas. One thing that didn't change, however, was the difference in how Kiss and Rush unwound backstage after the show.
Both groups still affectionately remember Kiss exploding into full superstar bacchanal mode while Rush would quietly slink off back to the hotel, maybe smoke a little weed, and watch TV.
"It was always a crazy scene," Alex Lifeson said. "They'd plaster us with cream pies, there was always some sort of surprise lurking around a corner! And certainly, there were some fun nights — parties and things like that. They lived a little more of a 'rock 'n' roll lifestyle' than we did.
Blue Öyster Cult – 1976
On December 31, 1973, Kiss officially debuted for music industry professionals by opened for Blue Öyster Cult at the New York Academy of Music. Gene Simmons, for the first but certainly not last time, accidentally wrapped up his fire-breathing stunt by setting his hair ablaze.
With their shared hardscrabble, ethnic New York backgrounds and inherent otherworldly weirdness, Kiss and BÖC made an instantly fitting pair. After Alive! hit and Destroyer conquered the world in 1976, Kiss happily hit the road with Blue Öyster Cult, just in time for the Long Island extraterrestrials to score their own instant classic monster anthem, "Don't Fear the Reaper."
Scorpions – 1976
The now half-century-long saga of Germany's Scorpions begins with the group as hard rockers that struggled from 1965 Berlin onward before finally taking flight among power metal's mightiest titans in the mid-'70s.
Perhaps seeing how courting controversy had worked for Kiss, Scorpions issued their next-level-launching album Virgin Killer with an original cover image far more shocking than anything Gene ever barfed up on stage (do NOT do an image search at work… or at home… or anywhere). The ploy paid off, but only because the music on the LP itself packed such a Teutonic wallop while also being fun to stomp along to at a party.
Scorpions charged forward on the Kiss rails for the Destroyer tour, a pivotal moment in why fans worldwide still know and adore these groups as powerfully as they did all those decades ago.
CLICK HERE to read the rest of the story at VH1.com