THIS DAY IN KISSTORY 1993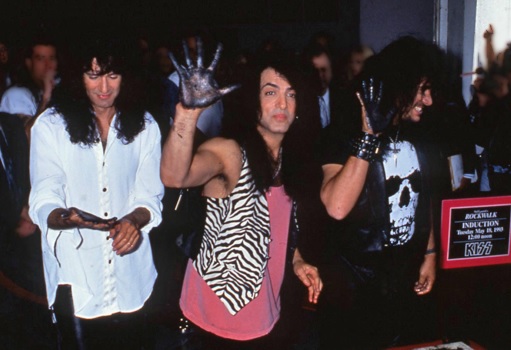 On this day in KISSTORY – May 18th, 1993, KISS featuring Paul Stanley, Gene Simmons and Bruce Kulick were inducted into Hollywood's famed RockWalk. At the ceremony in front of fans, friends and family, Paul, Gene and Bruce spoke to the crowd and then left impressions of their hand prints in a block of cement. After adding plates of the KISS logo and their signatures, the stone plaque was later added to RockWalk located at the site of the famed Oriental Theatre now Guitar Center Hollywood. Eric Carr was posthumously inducted into the Rock Walk in 1995 and added to the KISS plaque.
Visit RockWalk's website at http://www.rockwalk.com/ and look up KISS under inductees for some more photos of the induction as well as photos of some of RockWalk's KISS memorabilia including an Ace Frehley Les Paul guitar, Peter Criss' boots and Paul Stanley's Iceman guitar and boots.
Dedicated to honoring those individuals and groups who have made significant contributions to the music industry, Hollywood's RockWalk became a reality on November 13, 1985. At last, the Rock 'n Roll world could claim for itself an institution every bit as compelling as Mann's Chinese Theatre, and the Hollywood Walk of Fame.
Hollywood's RockWalk has honored such creatively diverse and equally as accomplished individuals and groups such as KISS, Aerosmith, Van Halen, Johnny Cash, Dick Clark, Willie Dixon, The Doobie Brothers, Jimi Hendrix and Les Paul.