Paul Stanley Hosts Food and Beer Festival to Benefit Maui Food Bank, July 11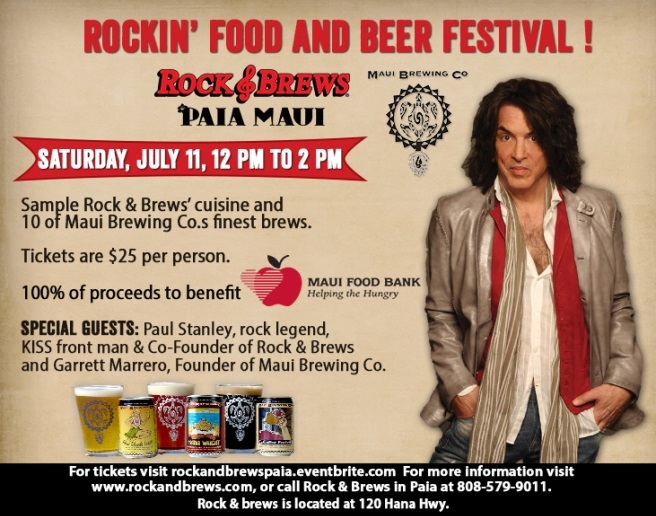 Rock & Brews Paia, the family-friendly, rock-inspired restaurant co-founded by KISS front men Paul Stanley and Gene Simmons, has joined forces with Maui Brewing, Co., to host a food and beer festival from 12 noon to 2 p.m. on July 11 benefiting Maui Food Bank. The event will be hosted by Paul Stanley of KISS, who is also a co-founder in Rock & Brews and Garrett Marrero, founder of Maui Brewing Co.
The event will feature a sampling of Rock & Brews' quality American comfort food and 10 of Maui Brewing Co.'s finest beers. Tickets are $25 per person, and 100% of the proceeds will benefit the Maui Food Bank.
For more information about Rock & Brews Paia's Rockin' Food & Beer Festival and to purchase tickets visit www.RockandBrewsPaia.Eventbrite.com or call 808-579-9011. Rock & Brews Paia is located at 120 Hana Hwy.