LATEST ROCK & BREWS – THE COLONY (DALLAS)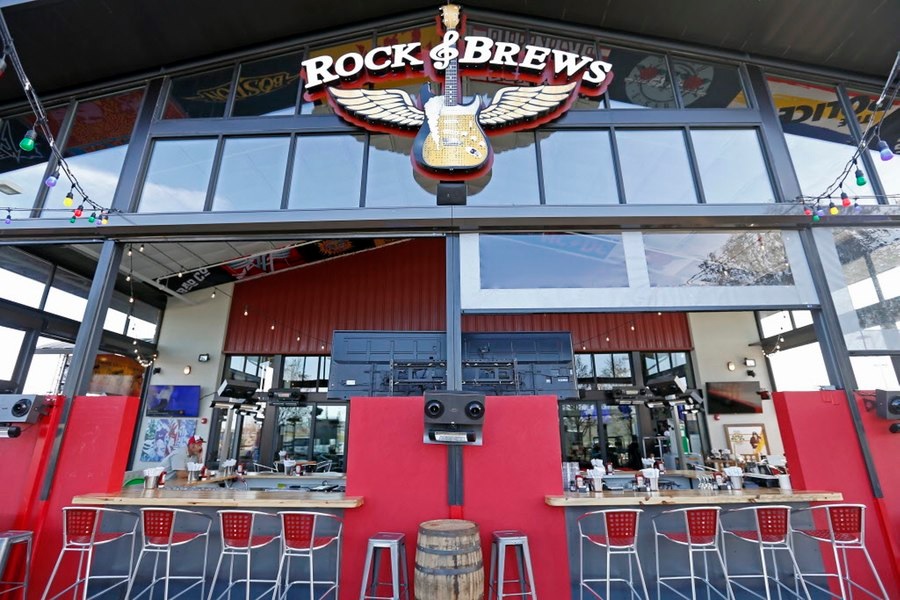 Gene Simmons — yeah, the tongue wagging guitarist from the band KISS — is opening a restaurant in sleepy Dallas suburb The Colony. His buddy Paul Stanley is in on the deal, too. The two are the rock, and, alright, the roll, in restaurant chain Rock and Brews.
It's the first free-standing Rock and Brews in Texas and debuts Monday, March 14. You'll find it nestled near the behemoth Nebraska Furniture Mart, down the street from the under-construction Toyota headquarters, and only a few thousand feet from the nearest McMansion. The Colony doesn't exactly scream glam rock like its famous KISS counterparts do. But the restaurant is hip.
Now I know what you're thinking: There's already a music-inspired restaurant with wings and burgers; it's called Hard Rock Cafe. Tell that to Simmons — well, I politely did — and he shrugs off the idea.
"Respectfully, the best thing you can do when you're running a race," he says, is to "not see who else is running behind you." And while Hard Rock Cafes have launched hundreds of restaurants in places like Austria, Norway, Egypt, Fiji and Indonesia, Rock and Brews is only in North America and touches a mere seven states so far. Its partners — a host of real estate and chain restaurant guys, beyond Simmons and Stanley — seem content to multiply without exploding like a ball of fire at a KISS concert.
The kitchen staff makes its own pizza dough and salad dressings; they pickle the onions in-house and make veggie burgers from scratch. CEO Michael Zislis is quick to say the menu of tacos, sandwiches, pizzas and fried stuff is driven by a made-from-scratch mentality.
That "outdoor party fun area," says Scott Paul, president of operations for Rock and Brews Southwest and Rock and Brews Florida, has shuffle board, foosball, wraparound couches and live music. The patio is dog- and kid-friendly. And let's just say it: North Texans could use another beer garden in the 'burbs.
The walls inside are washed with bright murals painted by Dallas-Fort Worth artists Dan Holzschuh and Stylle Read. They depict Stevie Ray Vaughan standing between two skylines, Dallas and Austin, and Texas music legends such as Janis Joplin and Willie Nelson. Concert posters, paintings and photos show Texas outsiders John Lennon, David Bowie and Madonna.
Interestingly, the staff wears whatever it wants; uniforms are uncool. Servers aren't given a script, either. "Let me get you a cold beer from our fridge," they might say, Paul recounts. None of this "Welcome, sir and ma'am" nonsense that would feel so not rock 'n roll.
Similarly, the cooks are allowed to rock out to whatever music they'd like to play on the kitchen speakers. Two TVs located above the cooking line can be turned to any channel. You won't find that kind of freedom in most kitchens.
Why The Colony?
Why not turn it up to 11 closer to Gexa Energy Pavilion in Dallas, where Simmons and Stanley have played twice in the past four years?
"There's so much business here," says Brett Anz, a principal partner in the restaurant. He lives in Plano and has watched Sam Rayburn Tollway send business west of the Dallas North Tollway and into The Colony. Rock and Brews' neighboring Nebraska Furniture Mart has been wildly successful, too, with sales exceeding $500 million last year, reports Dallas Morning News business writer Maria Halkias.
For those hoping to stumble upon Simmons and Stanley hanging out at their Texas Rock and Brews, it's unlikely. However, both rock stars will appear at a ticketed event May 10 where proceeds to go an as-yet-chosen veterans group.
The best place to find Simmons and Stanley is still on stage. "We've been coming to Dallas [for a long time]," Simmons says. Then a promise: "and we're not about to stop."
– See more at: http://www.kissonline.com/news?n_id=124266#sthash.iSkXOwzX.dpuf