Military vets met Paul Stanley, Gene Simmons of KISS at Corona Rock & Brew opening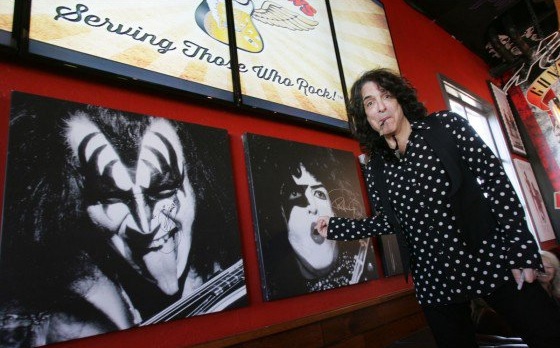 The two KISS band members help honor veterans and open new restaurant
By MARK MUCKENFUSS / Press Enterprise
Photos by STAN LIM
Some local veterans got brushed by celebrity — a kiss if you will — on Tuesday, Oct. 18 at Corona's new Rock & Brews restaurant.
Kiss band members Gene Simmons and Paul Stanley, co-founders of the restaurant chain, were on hand to celebrate the grand opening of the restaurant. The event began with a luncheon for veterans that filled nearly every seat in the house. The salute to the military has been a part of every Rock & Brews opening, Simmons said. There are 19 restaurants in the chain.
"Free lunch and free Kiss, are you kidding?" said Mike Ryan, 68, an Air Force, Army and National Guard veteran from Alta Loma. Ryan, who served from 1966 to 1974, stood in a line of about 200 people outside the establishment before the event began.
He said he learned of the event through his local American Legion post.
"This is quite a treat," he said. "Kiss is a legend, man."
Dean Madison, 56, of Rancho Cucamonga, was standing with Ryan. Madison spent 28 years in the Air Force, much of it as a reservist at March Air Reserve Base. He said he was excited to meet his childhood idols.
"This was my band in high school," Madison said. "I had this old Kiss belt buckle. I didn't know before that they're all about patriotic stuff."
Among those gathered for lunch were a number of members of Guitars for Vets, a non-profit organization that teaches veterans to play guitar as a form of therapy. Based in Chicago, the group has had an active chapter at the Loma Linda VA Medical Center since November 2011. James Robledo, 68, of Ontario, heads the chapter.
CLICK HERE to read the rest of the story and to view more photos from the event.