US rockers KISS donate guitar to children's hospital after Manchester Arena attack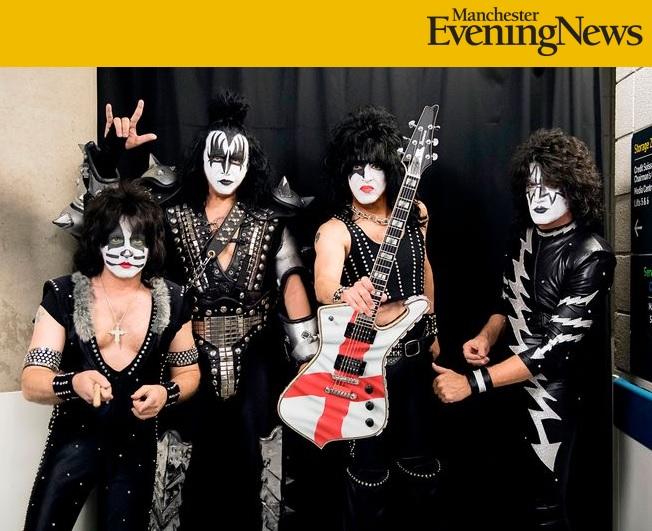 They had to cancel their gig and were so shocked they decided to help the city
John Scheerhout / Manchestereveningnews.co.uk
US rockers Kiss have donated a guitar to Royal Manchester Children's Hospital for those injured in the Arena bomb.
The bombing forced the band to cancel its own Manchester Arena gig scheduled the week after the outrage as the venue remained a devastated crime scene.
The attack left 22 dead and dozens of others, many of them children, seriously injured.
Singer and guitarist Paul Stanley was determined to do something for the city so donated his unused Ibanez PS120 guitar, which he had planned to play at the concert, to Royal Manchester Children's Hospital, where many of the injured were treated.
The hospital will now auction the guitar, decorated in the flag of St George, plus VIP tickets for a Kiss gig anywhere in the world, to raise funds for its paediatric intensive care unit.
Paul told the M.E.N: "We were devastated by the heinous attack in Manchester Arena and had to do something to support the city.
"Royal Manchester Children's Hospital's incredible work with children was never more evident than after this horrific event.
"We are humbled to be able to give something to support them in their ongoing efforts. Knowing that the money raised will go towards purchasing life-support ventilators, our prayers and wishes will continue to help both those affected directly by the attack, and beyond. This night will give everyone an opportunity to do their part in raising as much money as possible for an incredibly worthy cause."
Aside from the guitar, the auction winner will get to meet the band backstage at any of their concerts anywhere in the world.
The prize will be auctioned off at a charity ball in aid of Royal Manchester Children's Hospital on March 17 at the Lowry Hotel.
The event, hosted by Red Sea Pedestrians charitable organisation, has already raised £827,381 for the hospital since 2011.
It's paediatric intensive care unit needs £740,000 for 26 cutting edge life-support machines.
Maurice Watkins, chairman of the hospital's fundraising board, added: "We're delighted that Kiss has donated this incredible prize to be auctioned at the RSP charity ball and want to thank them for their tremendous generosity. In recent testing times staff at the hospital – just like the city of Manchester – pulled together to make sure the young victims from the attack got the best possible care, as quickly as possible.
"The new ventilators we are fundraising for will ensure that the medical teams in our paediatric intensive care unit can assess a patient's condition faster and more accurately, resulting in more effective treatment and care at a time when rapid reaction to a patient's condition is crucial."