KISS rock stars are becoming Rock & Brews food stars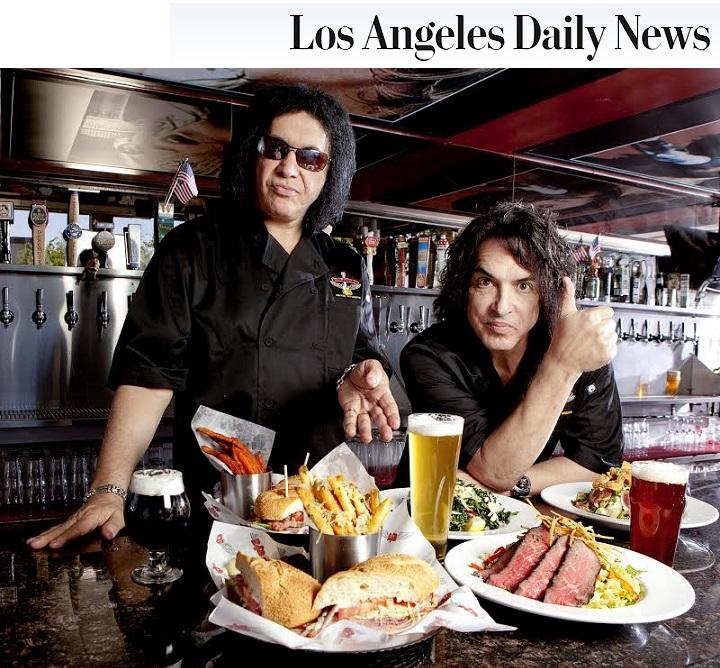 By Richard Guzman, Press-Telegram
The members of KISS are Rock & Roll Hall of Famers whose signature makeup, apocalyptic yet glamorous outfits, and wildly theatrical shows earned them an army of fans since forming in the early 1970s.
More than four decades later the band is still going strong and still sporting the makeup and elaborate outfits as they continue the KISSWORLD world tour this month. (There are no local stops for the tour.)
And during the past few years, in between the music and touring, two of the band's rock stars also have become food stars.
KISS bassist Gene Simmons and singer Paul Stanley are among the founding members of the rapidly growing Rock & Brews restaurant chain, which first opened in 2010 in El Segundo as a beer garden before evolving into a larger rock music-themed restaurant.
The rock stars will be opening their 21st franchise location in Downey on Sept. 4 at the Stonewood Shopping Center, 467 Stonewood St.
But before the grand opening, Simmons and Stanley will host a private lunch for more than 100 veterans, active military members and first responders at the new restaurant on Tuesday.
The event is a partnership between the restaurant and the veterans charity Courage Forward.
KISS frontman Paul Stanley spoke to us a few days before the private lunch about the new restaurant, what he has in his own oven and why the band won't be cooking up new music any time soon. (Some answers have been edited for space.)
Q Why is it important for you to invite veterans over before the restaurant opens?
A We founded Rock and Brews out of our belief in the military and in participating in charities that make a difference. … At Rock and Brews openings, the first people through the doors are the military and the first responders.
Q At which Rock and Brews are KISS fans most likely to see you eating?
A I eat at all of them. The public opening in Downey is Monday, Sept. 4 — that's an 8,400-square-foot restaurant that we put in. This is our 21st restaurant and on Aug. 29 we'll be there. I'll be eating there.
Q Since you're in the food business, do you like to cook?
A Yeah. It's easy to call yourself a foodie — that's a fancy term for someone who likes to eat. So, yes, I love food and I love cooking.