Interview with INsite Atlanta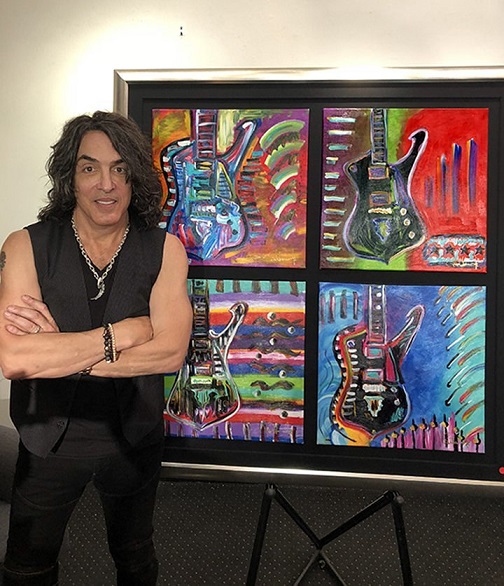 ROCK & ROLL HALL OF FAMER PAUL STANLEY OF KISS FINDS SUCCESS IN PAINTING
By Dave Cohen / www.insiteatlanta.com
A driving force as the lead singer/songwriter of KISS for more than forty years, Paul Stanley lives by the motto that "We define ourselves by the challenges that we take on and what we do with them." Having conquered the world of rock and roll, the challenge of playing the lead in Phantom of the Opera during a portion of the show's run in Toronto, the publishing of his autobiography, Face The Music, and his recent involvement in the restaurant business with the growing chain Rock and Brews, Stanley also continues to paint. He first picked up brushes in a therapeutic way during some difficult personal times more than a decade ago and since then his colorful pieces have sold extremely well through the Wentworth Galleries. Stanley visits Atlanta with his artwork on June 16th with an in-gallery appearance at Phipps Plaza. He recently took time out of his busy schedule to speak with Insite's Dave Cohen.
When you first started painting, about seventeen years ago, you first picked up the brushes to help deal with some unpleasant personal issues you were dealing with at that time. These many years later, with where your life is now, has your approach changed?
I think my painting, and art in general, is usually a reflection of the person creating. It certainly was cathartic early on in the sense that I was in a tumultuous situation, a divorce, whereas now it's only cathartic in that it's a reflection of how I feel and who I am. There's nothing that needs to be vented. There's just a lot that I want to validate.
With your personal life in a much better place now, you and your wife Erin have three still relatively young children in the house, does that happiness and satisfaction reflect in your more recent painting efforts?
I just think that my life in general is a result of a fighting attitude and a positive outlook that leads to a positive outcome. I'm an optimist but not a passive optimist. Passive optimism is insane. It's believing things are going to turn out well just because they're meant to. I'm an optimist in the sense that I believe it's in my capacity to make my life the way I want it so, with that being said, I think I've navigated a good course. It hasn't always been easy. It's had its share of bumps but I truly believe that we can make lives for ourselves that we deserve. When I look around me, at my wife, my children, my friends, I feel very fortunate. As I've said before, it's not based on luck. When I paint I use a lot of vibrant colors because I think that there is a validation and affirmation of life and I have an amazing life.
With regards to your painting as well as other projects you're involved with, your quote "We define ourselves by the challenges that we take on and what we do with them," certainly still seems applicable today.
Totally. I'm not obsessed with challenges or the outcomes of challenges. I believe that that is vital to who we are. I don't want to ever feel that I have accomplished everything. Every accomplishment should lead you to want to accomplish something else. I certainly have a point of view and a philosophy that has gotten me to where I am.
Along with what you have been painting on canvases, you are also painting on acrylic plexiglass. Flowers in a vase and even an Ibanez PS 10 guitar.
I've done paintings on the acrylics of flower arrangements, guitars, self portraits and portraits of other people, stars and all kinds of things. It's fascinating to me because I realized that you can paint in three dimensions because of the angles. When I'm painting these guitars it almost has a prism effect. I have also started painting actual guitars, actual PS 10's, that are not for playing. They're framed and they are art on guitars as opposed to art on canvas or plexiglass.
You have painted your interpretations of some well know ladies like the Mona Lisa and Lady Liberty, i.e. the Statue of Liberty. Recently I saw where you've added a painting of Marilyn Monroe. I really liked your work on that one.
Yea, thanks. I've done some iconic figures now and Marilyn was one of them, when you start thinking about icons, it's hard not to immediately be drawn to her. I'm also just finishing up a really terrific Jimi Hendrix that I'm very proud of. It's interesting because I look at what I'm doing today and I could not have done it five years ago.
These many year later, since you started, do you feel more confident and comfortable with your paintings?
I think most of us, when we first start something, have a certain shyness or self-doubt the validity of what you're doing outside of it being personal. In the beginning I was painting purely for myself and putting some pieces up in my house. It wasn't to exhibit them to others but for me to see them. The proof in that was that I did not sign them. Ultimately people would come over and were very attracted to them and I ended up showing them outside of my house which was never the intention. I think the bottom line for me has always been to do what pleases me as opposed to second guessing what someone else wants to see. That has always worked for me whether it was music or art. It's challenging myself to satisfy myself and when I do that other people will feel the same way. If I can do something I like someone else is going to like it too.
You played the role of the Phantom in Phantom of the Opera in Toronto in 1999. Different costume and a different kind of singing. Would you, at some point, want to act in a musical like that again?
I loved that challenge. I loved that role and that musical. So yes, if there was time, of course, I would love to do more theater. I hope that when I did Phantom, other than the normal theater crowd that came nightly, that some people who had never been to the theater came.
You recently gave the commencement speech at Wesley College in Dover, Delaware. What was that like for you?
It was terrific. Not unlike what I am saying right now to you. My point of view is very clear and I root for everybody. It is always easy to find people who are going to tell you what's impossible and those are invariably the people who failed and misery loves company. I'm somebody who's out there saying "If I can do it then you can do it." It's all about realistic expectations and then hard work. If you're crazy enough to kid yourself into believing you can do something that you don't have the capacity to do then you're setting yourself up for disaster. But if you truly know your capabilities then it's just a matter of hard work.
Another side project that you are passionate about is your group Soul Station, with which you recently took to Japan for a series of concerts. Are their plans to record and tour in the states at any point?
Everything I do at this point of my life I do for fun. Soul Station is a phenomenal band, great people, we have a ball and we're always in touch with each other. I want nothing more than to record and to do more shows with regularity and hit every city that I can. The music is that valid. It's a shame when all this great music has become relegated to a sample in some nonsense rhyme rap song. Give me The Four Tops, The Temptations, The Stylistics, The Spinners, The O'Jays. Give me that music in its entirety and the beauty about Soul Station is that it's a thirteen-piece band of people who have played with everyone from Natalie Cole to Whitney Houston to Stevie and Smokey and we play those songs reverently and the way they were intended. I would love to do that much more with Soul Station and I'm working towards that.
You mentioned during another recent interview that KISS plans to tour again in 2019.
People seemed surprised if I say that KISS is going to go out on tour. Well, of course we're going to tour. That's what we've always done.
Atlanta has always been a good city for you, meaning supportive, whether it's KISS, even going back to the early days, or when you've visited here with your paintings at the Wentworth Galleries at Phipps Plaza or Perimeter Mall.
Since the beginning of the band Atlanta has been amazing for us. When we first toured we would hear about "Hotlanta" and it always lived up to that from the days of Alex Cooley's Electric Ballroom. I've had some really interesting times there, some that are better left unspoken about. Atlanta's always been a great city. The people are great. The women are amazing and the food is great so how can you go wrong. When you talk about southern hospitality Atlanta epitomizes that.
Appearing at Wentworth Gallery, Phipps Plaza Saturday, June 16 5-8p.m. RSVP's are highly suggested at phipps@wentworthgallery.com or by calling 404-233-0903. Visit wentworthgallery.com for more info.