Behind the scenes of the KISS farewell tour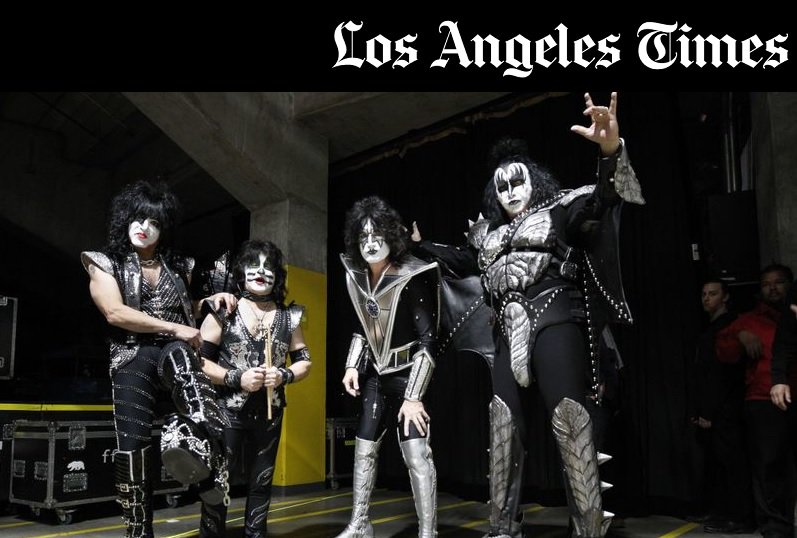 By STEVE APPLEFORD / LATIMES.com
Somewhere in the skies above San Diego, the God of Thunder is eating a sugar cookie. Gene Simmons of KISS is snacking, out of costume, and looking relaxed in the front rows of his band's private jet, but he's begun to notice the hills coming awfully close outside his window.
Less than an hour ago, this Gulfstream jet took off like a rocket from Van Nuys Airport, with a former F-14 fighter pilot in the cockpit and a flight attendant named Kate in a black KISS uniform. Their destination is now just minutes away, and the entire band is onboard, ready for the night's two hours of vintage rock hits and fireballs shaped like mushroom clouds.
It will be the fifth stop on the KISS End of the Road tour, near the very beginning of a two-year victory lap for the flamboyant hard rock quartet, which emerged 47 years ago as pop culture champions in platform boots and kabuki makeup. But right now, this plane is stuck circling San Diego, as flight controllers keep the air clear for a military jet pilot who lost his canopy.
"Wow. He's OK, right?" asks Simmons, dressed entirely in black, wearing a cap with his personal moneybags logo. He's the singer-bassist-co-founder of KISS, known to fans as the Demon, the God of Thunder and Dr. Love, notorious for decades of spitting (fake) blood and (real) fire at concerts.
A capacity crowd of 10,489 awaits them at Viejas Arena, and most of the shows are expected to be sell-outs. (The tour lands Saturday at the Forum.)
"What is that thing that connects to the fans and the band? It's not just songs," says Simmons, who turns 70 this summer. "It's sort of a gathering of the tribes, because it is culture. There's no reason to put KISS tattoos on your body and to name your children after our songs. There's this other much bigger idea that hovers above the band and the fans. There's some connection to your life."
In back of the jet is singer-guitarist Paul Stanley, his partner in the music and business of KISS, chatting with actor-comic George Lopez, close friend and leading contender for the title of Super-fan No. 1. Stanley wears a stylish flat-brim cowboy hat given to him by Lopez, who will be on the jet for many dates before this tour is done.
"About 25 years ago when we first were approached with the idea of having a plane, we were totally against it because we thought that it was excessive and symptomatic of everything we didn't want to do or be," says Stanley, 67, a surprising statement, perhaps, from someone who will soon be flying above an arena crowd on a zip-line. "But it allows you to do more shows; you actually work harder, but the grind is easier."
The tour is booked through the year across the U.S., Europe and Australia, with more dates to be added, including the first-ever KISS concert in Israel, where Simmons was born.
Drummer Eric Singer, 60, on the plane with an octopus medallion over his chest, says: "I want to enjoy every show, every gig, every day that we do. I want to enjoy all of these moments as they happen. Because when it's over, it's over."
Simmons holds up his cell phone to show a full screen of outgoing messages about the show's effects, sound, timing. A few days ago, lead guitarist Tommy Thayer suggested they switch out the shock bombs for fiery mushroom-shaped plumages during the opening moments of "Deuce."
"At the first show we had some problems onstage," Simmons says. "The fans didn't know anything. They just went, 'Wow!' "