PAUL STANLEY USA TODAY COVER STORY!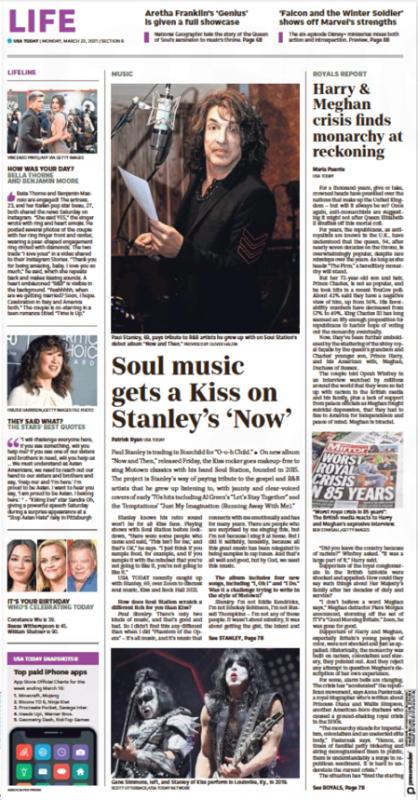 By Patrick Ryan / USA TODAY
Paul Stanley is trading in Starchild for "O-o-h Child."
On new album "Now and Then," released Friday, the Kiss rocker goes makeup free to sing Motown classics with his band Soul Station, founded in 2015. The project is Stanley's way of paying tribute to the gospel and R&B artists that he grew up listening to, with jaunty and clear-voiced covers of early '70s hits including Al Green's "Let's Stay Together" and the Temptations' "Just My Imagination (Running Away with Me)."
Stanley knows his retro sound won't be for all Kiss fans. Playing shows with Soul Station before lockdown, "there were some people who came and said, 'This isn't for me,' and that's OK," he says. "I just think if you sample food, for example, and if you sample it with the mindset that you're not going to like it, you're not going to like it."
USA TODAY recently caught up with Stanley, 69, over Zoom to discuss soul music, Kiss and Rock Hall 2021.
How does Soul Station scratch a different itch for you than Kiss?
Paul Stanley: There's only two kinds of music, and that's good and bad. So I didn't find this any different than when I did "Phantom of the Opera" – it's all music, and it's music that connects with me emotionally and has for many years. There are people who are surprised by me singing this, but I'm not because I sing it at home. But I did it selfishly, honestly, because all this great music has been relegated to being samples in rap tunes. And that's all well and good, but by God, we need this music.