KISS ROCKERS CHRONICLE AFL IN 4TH AND LOUD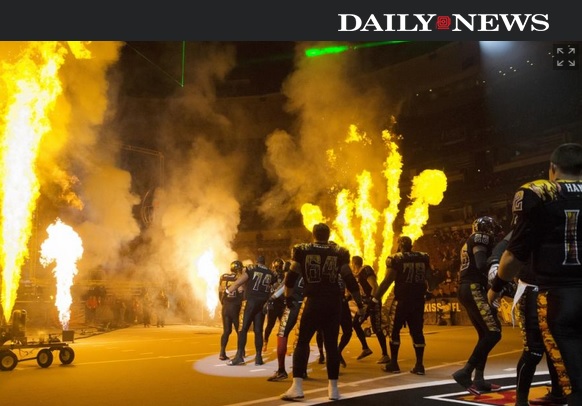 KISS rockers Gene Simmons and Paul Stanley chronicle their Arena Football League venture in '4th and Loud'
Longtime experts in hype add touches like fireworks, dancers and stunt-bike riders to indoor football franchise
With all the promotion that now surrounds professional football pretty much year-round, it's not a big surprise that the quarterbacks of the rock band Kiss would get in on the action.
No band has ever promoted itself more flamboyantly than these rockers who started in the '70s, and now original Kiss-ers Gene Simmons and Paul Stanley are presenting an AMC show called "4th and Loud," about their adventures running the Arena Football League team the LA Kiss. It airs Tuesday nights at 9.
They do say they rejected the idea of having the team wear the face paint that has long been a stage signature of the band.
"There are some pragmatic reasons why our great athletes should not be wearing the Kiss makeup," says Simmons. "For one thing, you've got to earn it. Secondly, it's got to be real football, not stuff going into everybody's eyes while they are running on the field and getting tackled. Not a good idea."
Elsewhere, though, there are Kiss touches all over.
"We wanted to create something that was very much in keeping with Kiss," says Stanley. "We want to envelope you and pummel you. We want BMX bike riders. We want pyro."
That's why, instead of cheerleaders, Kiss games feature provocative "dancing girls."
"We wanted to have girls who were women," says Stanley. "We wanted to have not the girl next door. We wanted the girl we wish was next door."
Simmons said he thinks the flair of the Kiss brand will not only make some money and headlines for himself and Stanley, but help enhance the visibility and image of arena football in general.
What the team and the show are not, however, Simmons and Stanley say, is a vicarious thrill for a couple of middle-aged guys who wish they could be star jocks themselves.
"I had a transcendent moment when I was in my early teens and playing sandlot football," Stanley says. "I was always a fairly sturdy, strong kid. But somebody tackled me and when I finally ceased to be airborne and landed on my stomach and had the air knocked out of me, I decided that a guitar was much safer."