KISS' Stanley and Simmons to open second Rock & Brews restaurant in Los Cabo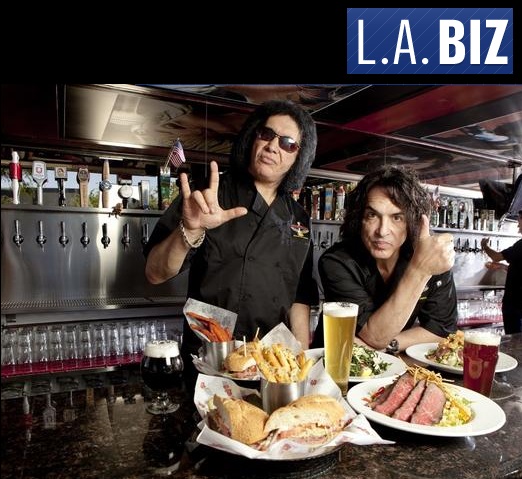 L.A. Biz
Kiss front men Paul Stanley and Gene Simmons plan to open a second Rock & Brews restaurant in Los Cabos, Mexico, later this year, after their first location in the area became damaged by Hurricane Odile in September.
The new restaurant will be in Cabo San Lucas on the waterfront in the Marina, adding to the first Rock & Brews in Los Cabos, which opened in 2013 in San Jose del Cabo.
"Our restaurant in San Jose del Cabo was severely damaged by the hurricane, and we are excited to join the persevering people of Los Cabos in their Los Cabos Unstoppable efforts to rebuild and recover following the hurricane," Stanley said in a statement. "Los Cabos is a spectacular destination and we look forward to welcoming local residents and visitors to both of our restaurants there for many years to come."
Stanley and Simmons have partnered with restaurateurs Rodrigo Cabeza De Vaca and Jose Arredondo to open Rock & Brews Cabo San Lucas in December. A grand opening event hosted by the rock legends is set for Dec. 5, with about 400 Kiss fans expected to attend.
The official host hotel for the event is the Sheraton Hacienda del Mar Golf & Spa Resort, which reopened last week after repairing from hurricane damages. The Sheraton is offering a special Kiss Army package that includes tickets to the Rock & Brews grand opening event and a private meet and greet with Stanley and Simmons at the resort.
The new Rock & Brews Cabo San Lucas will feature a rock-inspired atmosphere, including hand-painted murals of rock artists, album and tour art as well as the brand's signature "Great Wall of Rock." The restaurant will feature American "comfort food" as well as local favorites, a full bar and a large selection of international craft beers. A DJ will be spinning tunes nightly.
The Rock & Brews restaurant and entertainment concept was founded by Simmons and Stanley, along with restaurateur/hotelier Michael Zislis, and concert industry veterans Dave and Dell Furano. It now has four locations in California and others in Kansas, New Mexico, Maui, Hawaii, and San Jose del Cabo. Future restaurants are planned for Orlando, Fla.; Phoenix, Ariz.; Buena Park; and Dallas. The brand has three formats, including a traditional restaurant concept, an airport concept and a venue concept for large-scale entertainment and sports venues.
Hurricane Odile was a category four hurricane that registered as one of the strongest tropical cyclones on record to make landfall on the Baja California peninsula. It landed in Los Cabos on Sept. 14, damaging the tourist region's many hotels and restaurants, stranding travelers and leaving thousands without water and electricity.