Dave Grohl Hails KISS at ASCAP Pop Awards: Read His Speech in Full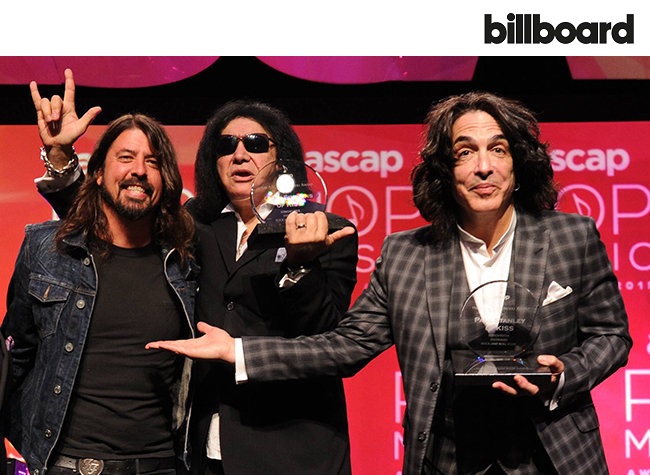 You could draw a straight line from KISS in its 1970s heyday to the Foo Fighters' ascent 20 years later — both arena acts delivering rock with a purpose — so it was fitting that Foos frontman Dave Grohl was chosen to present Gene Simmons and Paul Stanley with the ASCAP Founders Award. What those in attendance at Wednesday's ASCAP Pop Music Awards in Hollywood might not have expected, however, is the continuing connection between the two camps: their kids' grade school.
Taking a light, reflective and personal approach, Grohl delivered a solid homage that began from his own childhood days as a proud cadet in the KISS army. The sentiment of the speech was clearly appreciated, as Simmons later declared, "Dave Grohl and the Foo Fighters are carrying the flag that we hope will inspire the next generation of young kids."
Read Grohl's tribute in its entirety below.

Picture this: Springfield, Virginia, 1976. A skinny young boy with shaggy brown hair on a yellow yard sale bicycle brings home a copy of the album Destroyer, his first KISS record. Everybody remembers their first KISS record, and this is how I remember mine.
Up until that point, it had been mainly Beatles and Carly Simon, maybe a little Phoebe Snow, f—in' 10cc. But the album cover alone was enough to make me break my old piggy bank into a thousand pieces and scrape up enough lawn-mowing money to give it straight to Paul Stanley and Gene Simmons.
With nuclear anticipation, I let the needle drop on that legendary intro to "Detroit Rock City," perhaps the greatest introduction to any rock 'n' roll album ever recorded. It filled my speakers and my imagination. Thirty-four minutes later and 27 seconds later, KISS had filled my soul. I was now a member of the infamous KISS army.
Before long, my room had become a f—ing shrine. Posters of these four musical monsters lined my walls action figures filled my shelves and KISS albums overtook my once A.M,-friendly record collection. I was converted…
Every morning, I would wake up in my tiny bedroom and take a good look at my superheroes before walking to school. They got me through those years and ultimately inspired me to follow this unreasonable dream of becoming a professional rock 'n' roll musician.
One hundred million albums. One hundred million f—ing albums. Countless hit singles, record-breaking concert attendance. They even made fuckin' disco look cool with "I Was Made For Lovin You." Raise your hand if you can say the same thing.
I remember the KISS radio, which they just showed on screen — I'm so happy that they actually have remnants of this f—ing masterpiece of technology. I remember the KISS radios advertised on TV — "Hear all of your favorite KISS songs on your official KISS radio!" I imagined it was futuristic piece of technology and my direct link to my musical gods, so I ordered one… C.O.D., without even asking for permission from my struggling schoolteacher mother.
I'll never forget the day it arrived. The mailman knocked on the door, my mother took one look at this thing and said, I didn't f—ing order that. Then she sent it away.
Forty years later, my love of KISS is still strong. And these days I still spend every morning before school with Paul Stanley… in the parking lot of our kids' f—in' elementary school, chatting about Zeppelin and Electric Lady and touring and school fundraisers. So I'd say that my unreasonable dream definitely came true. And I finally got my KISS radio — it's the cheapest f—ing A.M. radio I have eve seen in my life! With the KISS logo on it. Nice one, Gene.
So without further adieu, it is my great honor to say: you wanted the best, and you got the best. The hottest band in the world — KISS!