KISS Fetted at ASCAP Pop Music Awards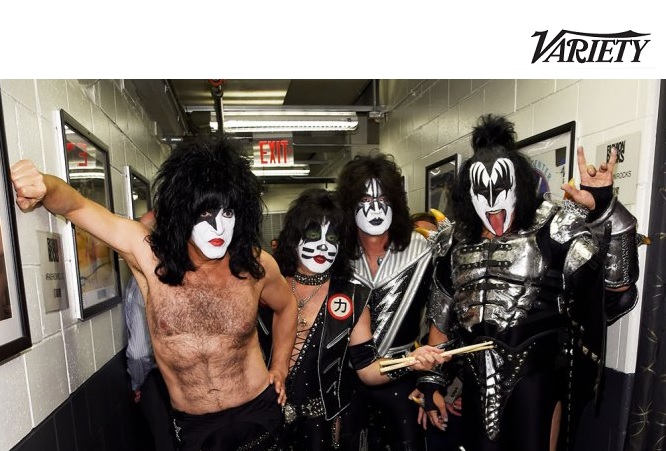 By Seth Kelley
The American Society of Composers, Authors and Publishers (ASCAP) honored KISS, the Doobie Brothers and St. Vincent on Wednesday during the 32nd annual ASCAP Pop Music Awards at the Loews Hollywood Hotel in Los Angeles.
In addition to honoring the three artists, the invitation-only event awarded top songwriters Max Martin and Toby Gad and publishers Sony/ATV and Prescription Songs LLC.
Legendary musician Dave Grohl presented the Founders Award to KISS, putting the band in the company of previous recipients including Elvis Costello, Sir Paul McCartney and Joni Mitchell. Patrick Simmons and Michael McDonald of The Doobie Brothers accepted the Voice of Music Award given to members whose music gives voice to the spirit of a generation. ASCAP also recognized indie pop-rocker St. Vincent with the Vanguard Award, previously awarded to Arcade Fire, Björk and Diplo among others.
For the fifth consecutive year and eighth time in his career, Martin was named songwriter of the year for his work on some of the year's top hits including "Bang Bang" by Ariana Grande, Jessie J and Nicki Minaj, "Break Free" by Ariana Grande ft. Zedd, "Dark Horse" and "Roar" by Katy Perry, "Problem" by Ariana Grande ft. Iggy Azalea and "Shake It Off" by Taylor Swift. Smash hit single "All of Me" recorded by John Legend earned Gad the song of the year award.
Sony/ATV was named publisher of the year for having a hand in 25 hit pop songs in 2014. Sony/ATV CEO Martin Bandier accepted the award with the Sony/ATV creative team. Beka Tischker, Senior VP of publishing for Prescription Songs LLC accepted the independent publisher of the year award on behalf of the organization.
Musical performances during the festivities included Sebu Simonian of Capital Cities performing the band's song "Safe and Sound," Maureen "MoZella" McDonald performing her Miley Cyrus hit, "Wrecking Ball," Richie Sambora and Australian guitarist Orianthi performing the Doobie Brothers' "Black Water" and "What a Fool Believes" and singer-actor Constantine Maroulis performing a medley of KISS's "Detroit Rock City," "Love Gun," "Shout it Out Loud" and "Rock and Roll All Nite."