Paul Stanley's New 10-Piece Band Plays Soul Classics, Not KISS Songs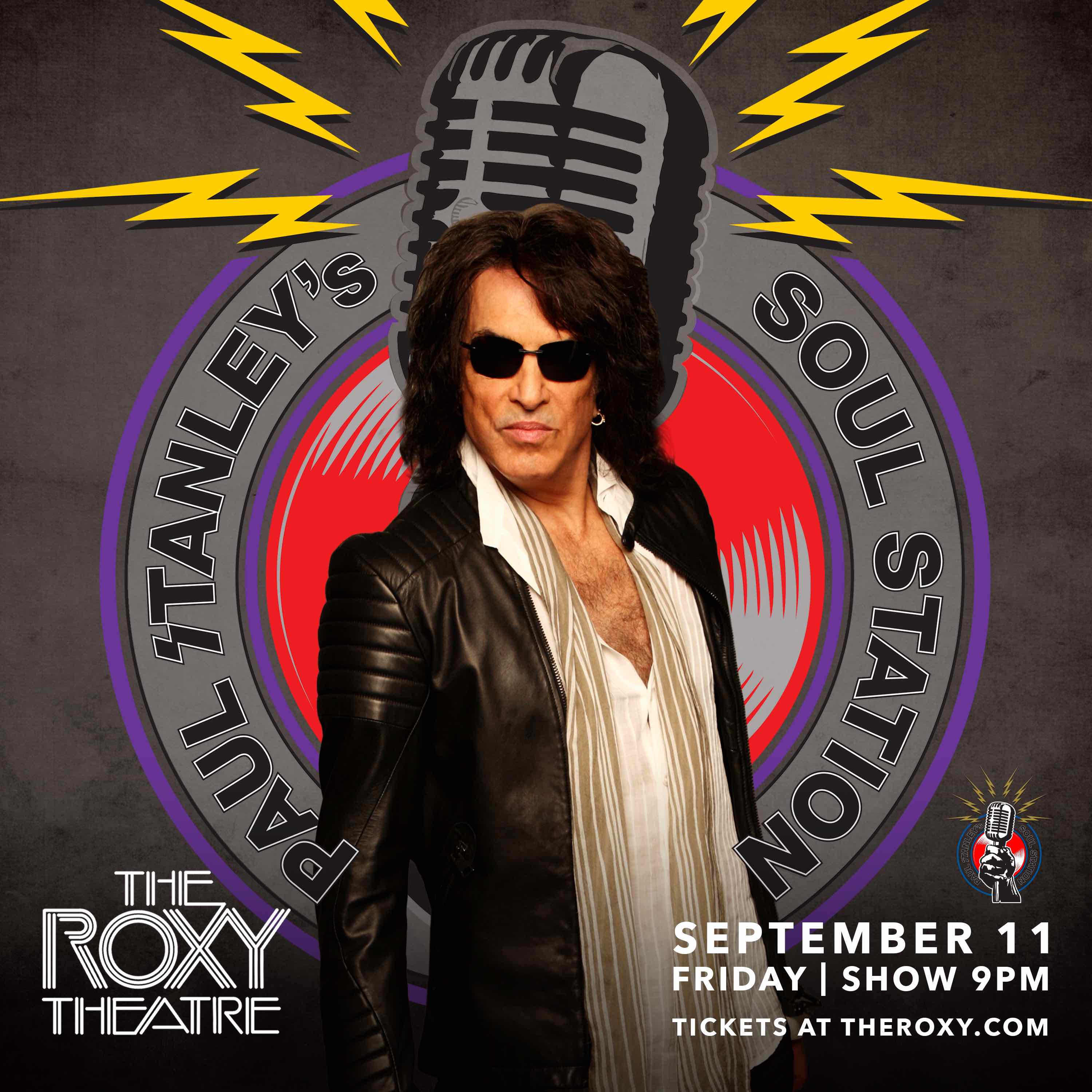 For the better part of the past 40-plus years, Paul Stanley has been known as the lead singer of KISS. But there's more to being a rock icon than painting your face and putting on a dynamic live show. In his autobiography, Face the Music, Stanley mentions early on how he got into the Motown and Philly soul, and that played as much of a role as British rock did in shaping his career.
To honor those influences, Stanley, along with nine other musicians, formed Paul Stanley's Soul Station. The group has honed a repertoire of 17 songs so far, which the singer says is enough without being too much. Playing only soul and R&B covers from that golden era of Motown, Stax/Volt and Philadelphia International, Stanley's new band is a lot different from the band that made his career. For starters, squeezing the band onto the Roxy stage on Sept. 11 may be a challenge; the KISS guitarist/singer jokes that "maybe we'll have to be on each other's shoulders."
Ahead of that show, we caught up with the Soul Station impresario to hear about the project's origins, how important of a role this music played in his own songwriting, and what fans can expect from the band's live show.
Why at this point in your career did you decide to form this group?
A lot of people have asked me similar questions. But before I saw Led Zeppelin, I saw Otis Redding, I saw Solomon Burke and I saw The Temptations. I grew up as much on real blues, R&B, Motown and Philly soul as British rock.
I just find myself thinking that people go to live shows paying for Kobe beef and getting dog food. You get computerized music with fake vocals, and it had me thinking about all of the great Motown and Philly soul acts that did these great songs and delivered the goods. I thought it was a great thing to celebrate, so I called some of the top people who I knew and when I told them what I wanted to do, [and] everybody without hesitation said they were in.
It is a celebration of that music and it's done respectfully and authentically. Classics don't need to be reinterpreted, they need to be shown the respect and reverence that they deserve.
When did you start putting the band together?
A year ago. I put out some feelers to get a sense who I should try to get involved. The players have the pedigrees that I wanted. One of the keyboard players, Alex Alessandroni, was one of the musical directors for Whitney Houston and has worked with Christina Aguilera, P!nk, Bobby Brown. Sean Hurley, the bassist, plays with John Mayer. Eric Singer, who has been the drummer of KISS for 21 years, is also an incredibly well-rounded musician.
To hear these songs played, it's just off the hook. When you hear these songs live, they're injected with something that is missing. I just found myself reaching a point where what you expect from a live show is so far from what [you] get that I think this is a wake-up call and a celebration of something that we should hold much more dear to our musical heritage.
How fluid was the formation of the band? Between your schedule and everyone else's, was it easy to get everyone to practice?
Initially, we didn't have a lot of rehearsals. What was so surprising is everybody did their homework, [so] when we came into rehearsals, we were 90 percent there. The set list goes everywhere from The Dramatics to The Isley Brothers, from The Stylistics to The Spinners.
Do these songs, in addition to British rock, serve as the foundation to what you've done with both your solo and KISS songs in terms of melody and harmony?
Absolutely. You think about Ken Gamble and Leon Huff producing and writing all of that great Philly soul. That's in my blood. I don't think you have to imitate music anymore than you have to imitate art you're inspired by. You're always inspired by somebody, but hopefully your taste is good.
When did this go from a cool idea to an actual band?
We played three months ago at a private function, and it was a matter of everyone sorting out their schedules. It came down to finding time  — specifically my time. I had a South American and European tour of stadiums and arenas. At this point, we're looking at when we can do a string of dates, so that's what's next. When we announced Soul Station was playing on September 11, promoters started asking about dates and if there's a tour. That is the plan, and I can't think of anything better to do.
It was important to me to make sure that everybody knew up front — meaning the public — before anyone bought a ticket that people knew what they were getting into. This isn't a KISS show or a rock show, and I'm not playing a guitar. This is a whole different thing and I'd rather nobody be surprised because I want this to find its own audience, and I want people who love this music to be there. I wanted no one to expect to hear "Love Gun," because we couldn't play any of those songs with a love gun to our head.
Are there plans to record an album or EP?
We're doing a DVD and that's the way to go. Capturing the event is really what it's about for me instead of just sitting and listening to the recording. Honestly, there are great recordings of these songs. To experience seeing a live band playing these songs the way they're meant to be played is really what it's about. In some cases, not only do we play these songs as good as they are on record, but in some cases unfortunately, we play it better than some of the people who are still playing them.
Paul Stanley's Soul Station makes its concert debut Friday, Sept. 11 at the Roxy. Tickets and more info.