Baby Felix meets KISS – 'A dream come true'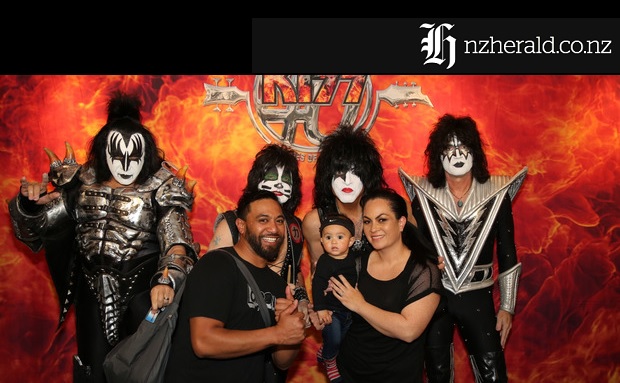 By Francis Cook of New Zealand Herald, Rebecca Blithe
Last night baby Felix Taito, born with the same rare ear condition as KISS frontman Paul Stanley, had his picture taken with the man his parents hope will become an inspiration to him as he grows up.
Last week the Herald reported that the parents of seven-month-old Felix, Seleta and David Taito, were appealing for help to get their little boy a picture with KISS when the band performed last night at Auckland's Vector Arena.
The Taitos discovered their son suffers from the same condition – which Stanley said caused him learning difficulties and sparked teasing growing up – when they attended a conference on microtia atresia last month in Brisbane.
"It's pretty amazing what [Paul's] achieved. He's someone that can be really inspiring to Felix in terms of what can be achieved with this condition," said Seleta.
While Felix faces a tough childhood and his family a battle to get him to the US for surgery, tonight has given them a special keepsake to take on their journey.
Seleta told the Herald that meeting Paul Stanley and the band "was a dream come true."
"The music was really loud and the band were in their outfits, so Felix got pretty scared. We were worried he would start screaming, but he held it together."
She "squeezed Paul's hand" and thanked him for his advice and he told her "you're welcome. Good luck."
Mrs Taito said she was feeling "really pumped."
"We couldn't have asked for a better start for our fundraising. If we can do this, we can do anything."
A Givealittle account has been set up in the hope of raising funds to go towards the $120,000 cost for surgery for Felix.
The US surgery can be performed when Felix is three. In New Zealand, the operation available to correct his condition isn't possible until the age of 10.
Stanley's advice to the Taitos was to get surgery for their son as soon as possible.