LOS ANGELES TIMES SOUL STATION FEATURE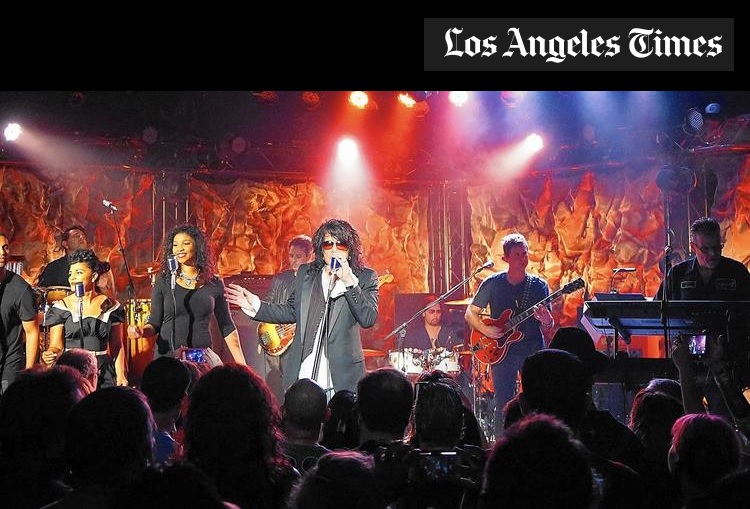 By Brittany Woolsey / Los Angeles Times
KISS frontman Paul Stanley is taking on a new musical style that might shock some fans of his hard-rock band, but it's one that he insists helped shape the face-paint-wearing, pyrotechnic group, which has been around since 1973.
Teaming up with a dozen other musicians, Stanley, who sings and plays guitar in KISS, is dropping the instrument, makeup and theatrics to sing covers of Motown and soul classics in a new group called Soul Station, which he is bringing to Orange County this month.
"Anything is more toned down than KISS," Stanley said, laughing, of the group made popular by hits like "Rock and Roll All Nite" and "Detroit Rock City."
"As soon as you do something, it's more toned down than what we do, but the power of something like Soul Station can take the top of your head off," he said. "It's very powerful, and I walk off stage drenched. It goes back to something that's stripped down, but by no means is it laid back. It's like a steamroller.
"You can't have a 13-piece band with horns and backup singers and not bowl somebody over. It's big, it's loud and it's fun. You don't usually assemble something like this and play a club. But that's part of what makes this so fun."
The band, which performs hits by groups like The Temptations and Jackson 5, is kicking off a short Southern California tour at the Coach House in San Juan Capistrano on Feb. 26. The group will also play shows in Agoura Hills and Pasadena.
In forming Soul Station, Stanley rounded up musicians, including KISS drummer Eric Singer, who have played with artists like Whitney Houston, Natalie Cole, Stevie Wonder and John Mayer.
He said he began thinking of forming a group like Soul Station three years ago when he started doing private events and found himself singing soul and Motown songs.
Now was the right time because of a break in KISS' touring schedule, he noted.
"I've found some time to slot things in," said Stanley, who when he is in KISS mode wears white face paint and a black star painted over his right eye. "I can't juggle a lot of things. My belief is always that you can't give your everything if you're doing multiple things 100%. You start to divide up your time, and you start to give something 30% and something else 70%.
"There's enough of a break now that I can dive into intensive rehearsals with Soul Station and do shows. To do these songs the way we do them takes a lot of time, love and respect."
He said the songs that Soul Station performs, including "Could It Be I'm Falling in Love" and "Just My Imagination," helped inspire KISS, which was nominated for Best Hard Rock Performance for "Psycho Circus" at the Grammy Awards in 1999 and was inducted into the Rock and Roll Hall of Fame in 2014.
"KISS isn't the product of metal bands," Stanley said. "KISS is a product of everything from the Beatles to Beethoven and Motown. It's all in there. For me to pay tribute to some of my roots other than rock 'n' roll is a powerful thing. I'm just lucky that other people want to hear it because I would be happy to do it just for me. To hear these songs live is just such a treat for me."
Stanley said his goal for the group, which made its debut in a concert at the famed Roxy Theatre in Los Angeles in September, is to "pay tribute, respect and reverence in arrangements" to the music of that time, in contrast to how the songs of today seem only to sample the songs as background beats.
"This music has really unfortunately become almost a footnote or a source of sampling for computerized beats with some nursery rhyme on top of it," he said. "We're living in a time now where the norm is Auto-Tuned vocals and computerized music.
"This harkens back to music that is really the foundation of what many people are doing today. These songs are in the fabric for what everybody does, and for us, the most important thing is to do them properly and to make sure we reproduce them better than most people who are out there."
He said that because the covers that Soul Station performs are so popular, audiences frequently join in. He said he hopes to record the songs in a studio and eventually do longer tours.
"They sing along and it's not because I ask them to," Stanley said. "It's because these songs are important and everybody remembers them, even if you think you don't."
*
IF YOU GO:
What: Soul Station featuring Paul Stanley of KISS
Where: Coach House, 33157 Camino Capistrano in San Juan Capistrano
When: 8 p.m. Feb. 26, doors at 6 p.m.
Cost: $58
Info: thecoachhouse.com