Starchild, Soul Man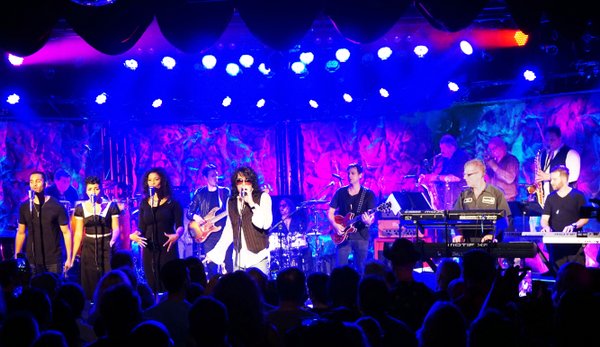 Paul Stanley's Soul Station brings Motown to The Canyon Tonight
By Michael Aushenker / Vcreporter.com
Paul Stanley understands your confusion.
After all, when one thinks of KISS, the four-decade-old band best known for spitting fire, drooling blood, outsized tongues and platform boots as big as their egos, musicians like Otis Redding, The Temptations, and Isaac Hayes are not the names that come to mind as influences on the theatrical rock group.
And yet, the KISS frontman and guitarist (a.k.a. Starchild) is earnest as he comes to Ventura County with Paul Stanley's Soul Station, a revue covering iconic soul songs from the Motown and Stax era of black music, to perform at The Canyon in Agoura Hills.
Stanley insists that "covering" is not quite accurate: "We're not doing interpretations of these songs, we're inhabiting these songs and doing them absolutely accurately. We play it religiously and reverently." The formula seems to work: At a recent warm-up gig at the Roxy on L.A.'s Sunset Strip, "The place was packed." "Everybody is doing it because of passion," says Stanley. "It's really about re-creating those songs, the sweat that made those songs so great."
Stanley's passion project features a top-notch band of seasoned musicians, including the participation of current KISS drummer Eric Singer. He's joined by guitarist Rafael "Hoffa" Moreira (Pink, Steven Tyler, Sheryl Crow), bassist Sean Hurley (John Mayer, Ringo Starr, Annie Lennox) and keyboardists Alex Alessandroni (Babyface, Toni Braxton, Natalie Cole) and Ely Rise (Macy Gray). The backup singers — Nelson Beato, Crystal Starr and Laurhan Beato — have performed with the likes of Stevie Wonder, Smokey Robinson and Whitney Houston. "The finest music that I heard live is Otis Redding," Stanley said. "I saw Otis, I saw The Temptations. I wanted to have an alliance with this great music."
Anyone familiar with the KISS catalogue will not be surprised by Stanley's penchant for classic soul. "And Then She Kissed Me," from the 1976 album Love Gun, is a gender-bending (and snark-free) inversion of a Phil Spector-produced Crystals song. Also recall producer Eddie Kramer's rollicking honky-tonk piano throughout Simmons' greasy "Christine Sixteen" and the gospel choir backing Stanley on "Tomorrow and Tonight." "I'm not a rock singer," Stanley clarifies. "I'm a singer who sings rock."
Is a Soul Station album in the works? "Anything's possible," Stanley says, mentioning how the recorded Roxy show "sounds phenomenal." "It's always a matter of how we do it and why and what it's going to be," Stanley continues. "To rehash something for me that is of no difference from what we did before is not interesting to me."
With the deaths of Motorhead's Lemmy Kilmister, David Bowie and the Eagles' Glenn Frey, the year 2016 has been punishing for iconic, globally renowned musicians. Stanley takes a moment to reflect on the passing of Frey and Bowie: "Strangely, we also have roots in a lot of the music that the Eagles came from. Glenn was from Detroit and certainly a rocker. [Bowie] was an artist in the truest sense. He was an actor, a poet."
This week at The Canyon, expect to hear The Temptations' "Get Ready," The Stylistics' "You Are Everything" and Smokey and the Miracles' "Ooh, Baby, Baby" when Soul Station performs: "All classic, classic songs. People coming to the show will realize not only do I know it, I can sing it," Stanley says, adding rather defiantly, "If you're coming to hear KISS songs, you're coming to the wrong place."
"The whole purpose of Soul Station," he continues, "is to perform the Motown and Philly soul that is at the core of so much of music today, sadly now being made by computers and preprogrammed beats and guys doing nursery rhymes over the music. You don't need to mess with Martha and the Vandellas, you don't need to mess with The Stylistics. What's missing for me today in great quantity is great live R & B."
Can the Starchild really pull off a legitimate soul revue?
After 43 years of KISS, 100 million albums sold and hundreds of millions raked in from all kinds of KISS merchandise (from action figures and Hello Kitty dolls to anime and comic books, to condoms and coffins), who are we to underestimate Paul Stanley at this point?
---
Paul Stanley's Soul Station performs Saturday, Feb. 27, at The Canyon in Agoura Hills. For more information call 879-5016 or go to www.canyonclub.net.