Bid On a Staged-played Paul Stanley Ibanez Guitar to benefit the Criss Angel HELP Charity Event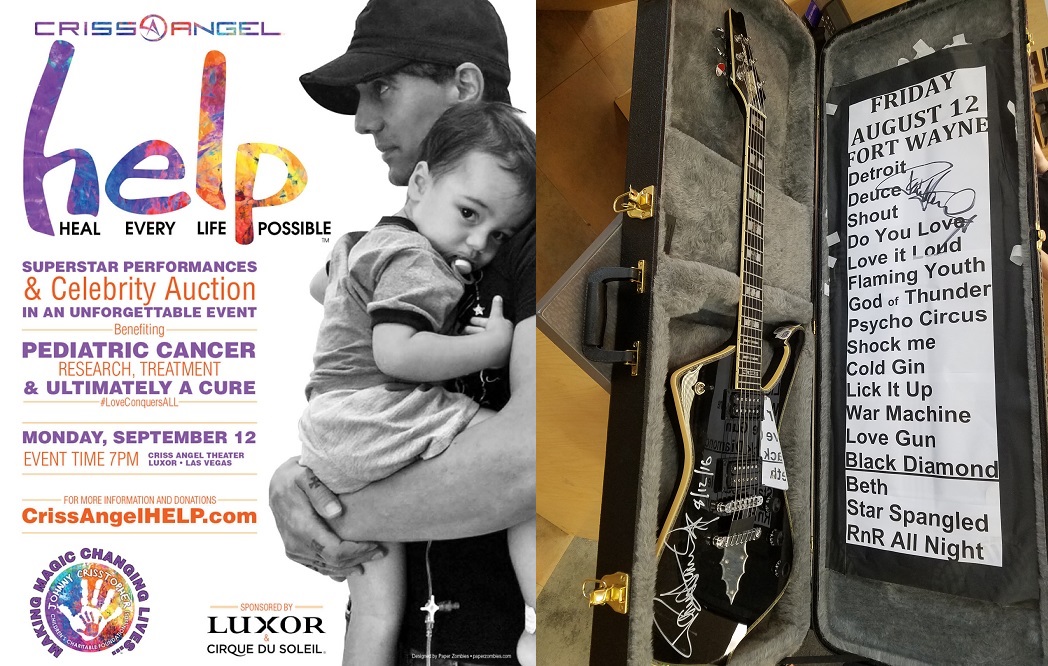 Own an authentic piece of rock n roll history, a new IBANEZ PAUL STANLEY PS 120 MODEL GUITAR actually stage played, sweated on and hand signed by the legendary Paul Stanley of KISS. Also includes – Paul's picks, set list, case and video of Paul personally verifying its authenticity. 
CLICK HERE TO BID NOW in the Criss Angel HELP Charity Celebrity Event Auction!
Superstar magician Criss Angel will bring some of the world's biggest stars together in a star-studded one-night only performance benefitting pediatric cancer research and treatment with the aim of finding a cure.
Performances and appearances from Jerry Lewis, Tony Orlando, Siegfried & Roy, Gary Oldman, Wayne Newton, Mike Tyson, Floyd Mayweather, Gene Simmons, Andrew Dice Clay, Chuck Liddell, Richie Sambora, Vince Neil, Dee Snider, Tom Green, Randy Couture, Carrot Top, Blue Man Group and Cirque du Soleil, to name a few.
Event Details
| | |
| --- | --- |
| Who: | Johnny Christopher Children's Charitable Foundation (JDS) |
| Where: | Criss Angel Theater Luxor Hotel & Casino 3900 S Las Vegas Blvd, Las Vegas, NV 89119 |
| When: | Monday, September 12th |
| Start Time: | 7:00pm |
| End Time: | 10:00pm |
For more information visit: CrissAngelHELP.com
MISSION STATEMENT
The mission of the Johnny Crisstopher Children's Charitable Foundation, a 501(c)(3) organization, is to raise awareness of pediatric cancer and provide funds for research, treatment, and – ultimately – a cure. Unlike many other non-profit charities, 100% of your donation will go directly to this fight; NOT one cent will be deducted for ANY expenses, salaries, or overhead. Criss Angel has funded the operations of the foundation out of his own pocket since its inception in 2008. It has now become his life's mission (after working with childhood causes since 2001) when recently his own child, Johnny Crisstopher was diagnosed with leukemia in 2015 at 20 months old.