Paul Stanley Talks KISS Merch Milestone with Billboard Magazine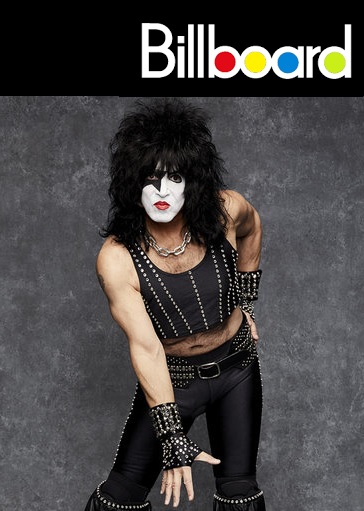 A half billion dollars in sales and 125 global licensing deals can't be wrong.
By / Billboard.com
An interview with Paul Stanley, KISS' hirsute party-starting frontman, doesn't go in any way, shape or form as a longtime fan might expect. This is, after all, Starchild, who back in the day in his rocktastic onstage falsetto-tinged banter would ask such trenchant questions as, "How many of you girls like to get licked?" or more famously on 1975's Alive! "How many people here like to take a taste of alcohol!?"
But with age (he's now 65), road miles (43 years) and family life (four kids between the ages of 5-22) comes wisdom. The KISS frontman touches upon such philosophical topics as human fallibility, finding your path and the value of altruism and self-empowerment and not so much partying every day. Stanley, these days, seems more Star Wars' Yoda than Starchild.
The irony is as uninterested in the material world as he now seems, we're discussing the band's latest merchandising milestone: Over the last year, with the help of longtime merch partner Epic Rights, KISS hit 125 global licensing deals. The band, throughout it's career, has sold some half a billion dollars retail value at stores and in concerts which helps back KISS' claim to being the most merchandised band of all time. In fact, in 2015 the group made the Top 150 Licensors List published in License Global which based on 2014 revenues reported their merch at $100 million.
"Sometimes people who will watch the band from the periphery and talk to me about the band's 'golden years,'" Stanley says. "And I go, 'These are the golden years, these here now.' This has been a steam roller that has only picked up steam in terms of monetary compensation — nothing compares to today."
Indeed while KISS trailblazed new merch and fan club territory in the mid-1970s with a torrent of t-shirts, patches, posters, lunch boxes and the formation of the Kiss Army, its vast merch arsenal today continues breaking new ground with millennial-friendly wares like KISS emojis, mobile video games, moisturizing face masks, carbon fiber bikes and debit cards (see Billboard's gallery of New KISS merch).
Billboard caught up with Stanley to discuss the band's licensing juggernaut, its origins, the odds of another reunion and how from KISS condoms to KISS coffins the band "get you coming and going…"
Billboard: Congratulations on KISS' latest merch milestone, 125 global licenses.
Paul Stanley: We've had thousands of licensing partners over the years but my objective has never been to have bragging rights by accumulating volumes of licensing partners; rather, it's been about using decades of successes as a spring board to elevate our position in terms of gaining higher stature affiliations.
How did KISS' merchandising begin?
Organically. We came at a time when fan clubs were frowned upon. Fan clubs harkened back to an age of Fabian and Frankie Avalon and seen as a ploy by management and record companies to sell the flavor of the week. But when we came into being people wanted to align themselves with us. They were the ones who said, 'We want a t-shirt, a belt buckle.' It's very easy to tag us as marketing geniuses, but I would rather say we have very acute hearing.