PAUL STANLEY Discusses the Future of KISS, His Painting Career, "Phantom Of The Opera" & More!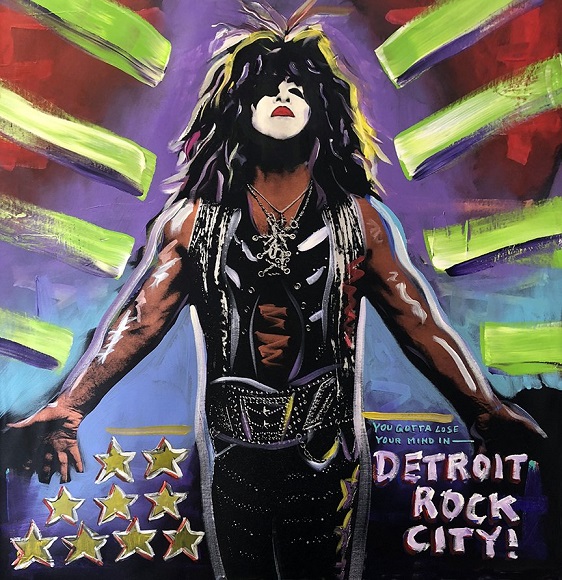 By Darren Paltrowitz / http://puregrainaudio.com
A major influence on members of Mötley Crüe, Guns N' Roses, Pantera, Marilyn Manson, Foo Fighters, Soundgarden, and Pearl Jam alike, KISS not only changed rock music but all guitar-related music for that matter. As one of the singers and songwriters behind KISS, Paul Stanley played a role in the creation of plenty of long-standing rock anthems, including "Rock And Roll All Night," "Detroit Rock City," "Shout It Out Loud," "Lick It Up," and "I Was Made For Lovin' You". However, Stanley's music-related success has gone well beyond KISS, as he has not only released a pair of a solo albums and written and produced for other artists, but also the New York native starred in the Toronto production of Phantom Of The Opera.
2018 is proving to be yet another banner year for Stanley. Not only is he playing shows with KISS and his Motown-influenced Soul Station band, but Stanley is showcasing his painting with four gallery shows, his first of which will be at the Wentworth Gallery Short Hills in New Jersey on April 28th; RSVPs for the Short Hills gallery event can be called in to 973-564-9776. Further Wentworth exhibitions will be taking place in Georgia, Maryland and Virginia in the months following. More information on those showings and Stanley's other projects — including the successful chain of Rock & Brews restaurants — can be found online at www.paulstanley.com.
Earlier in our chat you had mentioned Soul Station within the context of your practice space. Is there any upcoming Soul Station activity planned for?
Paul Stanley: We're working on putting together a TV special that would air, and recording. We would love to be in the studio recording, taking it to the next level. It's such an amazing band, and it's so valid in terms of playing these classic Motown and Philly songs the way they originally were played, and playing them with respect and reverence. It's just a phenomenal show and a phenomenal evening when you have a band made up of a who's who of people who have played with everyone from Smokey Robinson to Stevie Wonder, Natalie Cole, The Temptations, John Mayer, Christina Aguilera… When you have people who have this feeling of a crusade to pay homage to a music that unfortunately seems to be relegated to samples on a rap song. There's so much great music to be played, between this massive band that we have, it's pure joy.
Beyond the soul genre, you showed prowess with country on the song "Hard Luck Woman". Did you ever think of getting into the Nashville scene as a co-writer?
Stanley: I don't want to say it's a very closed-off… It's a community-based music and they tend to be quite self-contained, and understandably so. There's enough things out there for me that I don't need permission to do, in the sense that I don't need someone to open the door for. So I tend to do the things where I make the choices.