KISS Frontman Paul Stanley Becomes Shareholder In Badlands Pawn, Gold & Jewelry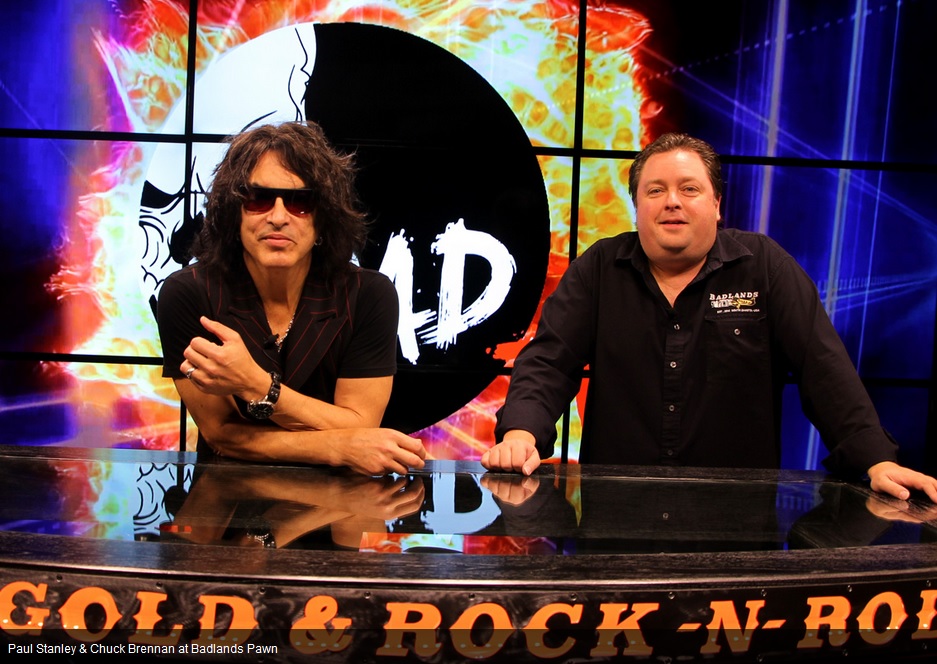 There is no better endorsement for an entertainment complex with the tagline "Guns, Gold & Rock N Roll" than one of the world's top selling rock & roll legends wanting to be a part of it. KISS' Paul Stanley, one of the most recognizable front men in rock & roll as well as an artist, songwriter and businessman, has become a minority owner in Badlands Pawn, Gold & Jewelry in Sioux Falls, South Dakota. The 70,000 square foot retail, business and events center opens Thanksgiving Day and includes dozens of entertainment options including a pawn shop, radio network, television network, shooting range and concert venue.
Stanley is a long-time friend of Badlands founder and CEO Chuck Brennan. The Badlands family of companies also includes Badlands Entertainment, Guns, Gold & Rock N Roll Radio Network and Badlands Motor Speedway. Brennan is a philanthropist and businessman who founded several businesses including Dollar Loan Center and the non-profit Brennan Rock & Roll Academy in Sioux Falls, SD.
Stanley said Badlands Pawn, Gold & Jewelry is an entertainment destination unlike any other in South Dakota. "Sioux Falls has never seen anything like this," said Stanley. "The country has never seen anything like this. The first one is in Sioux Falls and it is a template for more to come. It's very exciting to see and be a part of."
Stanley became an owner in Badlands following his most recent trip to perform with the Badlands House Band at their world premiere concert. "The concert almost didn't happen because the city was completely flooded that night," said Brennan. "Paul and Jack Blades from Night Ranger were guest performers and really showed their commitment to music and our success by waiting more than two hours until the power was restored and they could go onstage. Paul's friendship over the years and support of the Brennan Rock & Roll Academy and now Badlands, really means the world to me. If Paul Stanley says what we are creating is outstanding, consider it outstanding."
Following his performance with the Badlands House Band, Stanley toured Badlands Pawn and the Badlands Motor Speedway before deciding to invest in Brennan's vision for Sioux Falls. "He opened up his checkbook and bought all the remaining shares of the original offering," said Brennan. "I couldn't be prouder to work with Paul, and our incredible team of entertainers and professionals, to bring my vision for Badlands to fruition."
"I admire Chuck," said Stanley. "He grew up here and wants to give back here…with the Brennan Rock and Roll academy and now Badlands. This will become a nationally-known tourist attraction. It will be a destination that will boost the local economy with jobs and commerce, and a tourist destination that people will come from all over the world to visit."
Stanley said he was especially impressed with community-minded efforts that were planned as a part of Badlands Pawn, Gold & Jewelry. "For me, a place that comes into a community has to justify itself by being a member of that community, giving back and being a good neighbor," he said. "The state-of-the-art shooting range will give members of law enforcement a chance to practice free of charge and provide firearm lessons to citizens."
Stanley said every part of Badlands is being designed with the most important element in mind—fun. "If it's not fun, it might not be worth doing," he said. "Everything about Badlands is fun. It's revolutionary. It's terrific!"
Badlands Pawn, Gold & Jewelry, opening Thanksgiving Day, will become one of the state's largest tourist destinations in the heart of the newly coined 'Sioux Falls Sports & Entertainment District.' Badlands Motor Speedway, formerly Huset's Speedway in Brandon, SD, is set to become a premiere sprint car facility and home of the prestigious $250,000 Rock & Roll Gold Cup, an annual 3-day racing event. It will officially open at the start of the 2016 racing season.
For more information, visit www.badlandspawn.com and www.badlandsmotorspeedway.com.