Paul Stanley On Pushing Past The Misery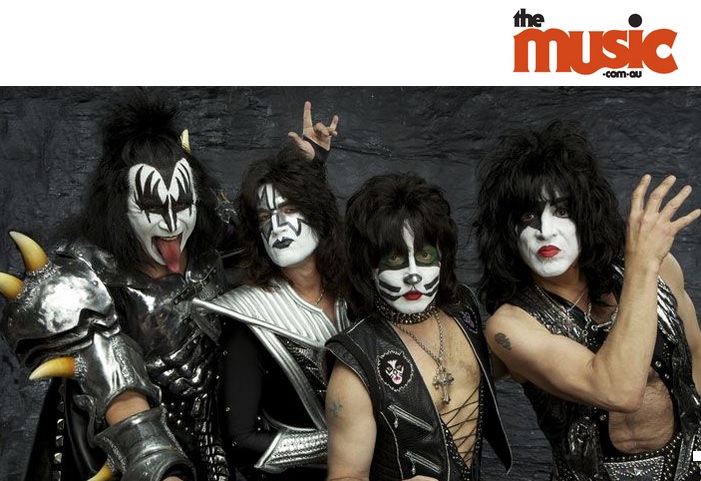 By Bob Gordon / The Music
Normally it's Demon bass player Gene Simmons who finds himself spitting blood on stages around the world as part of Kiss's long-celebrated stage show, but a recent Twitter pic by the band's vocalist/guitarist/Starchild, Paul Stanley, saw his lip blooded and slightly beaten by a rehearsal-related tambourine accident.
Preparing for a special show with his R&B outfit, Soul Station, in Los Angeles, Stanley – who normally hurls guitars around with command precision – found things almost got more concussive than percussive.
"I threw the tambourine up in the air and misjudged it and it smacked me in the face," he recalls. "It was not pretty and it didn't feel very good, but to my credit I made it right back to the microphone in time and kept on singing (laughs)."
It might seem like a departure for a renowned hard rock singer, but as someone who grew upon on Philadelphia soul and Motown, for Stanley it makes a lot of sense.
"I was having lunch in London with Jimmy Page," he notes, "and we were talking about it and I said 'you know, before I ever saw Led Zeppelin I saw Otis Redding. Before I ever saw The Who, I saw The Temptations and Solomon Burke'. We're living in a time now where so much that is passed off as music is just computerised crap with auto-tuned vocals that people have either forgotten or never experienced great live R&B.   The people who do enjoy that are few and far between. There isn't that many people doing it.
"So I just gathered together with some like-minded musicians who just jumped at the idea and we just have a great time, playing that stuff faithfully and reverently. To be able to play Temptations, Stylistics, Smokey Robinson and Spinners is just great."
At the time of the original line-up's Farewell Tour in 2001, Stanley maintained that Kiss has given him the freedom to do what you wanted once it ended. Times shows that Ace Frehley and Peter Criss left and the Stanley/Simmons core was joined by Eric Singer and Tommy Thayer. The band continued and Stanley still had the freedom anyway, to pursue painting, solo work, business ventures, an autobiography… and soul music. To do what he wants, but not any old time.
"In a sense we were trying to put the band out of its misery because it was back to the old days of drudgery and people not getting along and not talking. We thought 'let's just end it' and quickly I thought I didn't want to stop. All I wanted was to get rid of the problem. Thankfully there's been a massive audience that very much agreed.
"That was a turning point certainly and you know the longer we've been around the more I've found that there is time – although it's limited – to  do other things. But you can easily compromise what you're doing by doing it at the wrong time."
The band's ability to push boundaries or break rules has long been in place and has become the template for other mega-bands. 2015 alone has seen KISS collaborate with Japanese girl group, Momorio Clover Z, on a single, Samurai Son, and release a Scooby-Doo! and Kiss: Rock and Roll Mystery cartoon feature. By now this kind of diverse branding is what Kiss are best known for, other than their music. Yet people are still constantly surprised by their movements.
"It all depends on your attitude and philosophy," Stanley says. There are so many people who say 'why?' and I tend to say, 'why not?' (laughs). We don't live within the boundaries of other bands and the limitations that either the critics seem to impose or bands impose on themselves. We write our own rules and our #1 rule I think, is 'no rules'.     "It's funny sometimes critics see their darlings doing something similar, although perhaps less extreme, and they think these people are great showmen and somehow turn a blind eye then look at us and say it's a trick, or it's a gimmick. If that's so, it's possibly the greatest trick of all time, because it's been going for 40 years."
But it's not done without a certain amount of tongue in cheek. The Scooby Doo movie contains a lot of self-deprecating quips and many not-so-subtle digs at their own marketing machine.
"Truth be told, because you take yourself and what you do seriously, doesn't mean that you can't have a laugh," Stanley says. "You have to find the humour in situations and I certainly see the fun side and humorous side and it doesn't, in any way, detract or negate the fact that we take a huge amount of pride in what we do and have a legacy to live up to."
That said, Stanley's 2014 autobiography, Face The Music: A Life Exposed was surprisingly revealing for someone who had long fiercely protected his privacy. Many highs and lows, indifferences and crises of confidence were played out.
"I think the more you free yourself of secrets the freer you are," he says. "So to put something out that could be of help to other people and perhaps either inspire them or give them some hope, and to document something that my children can read as they get older to understand the difficulties that I may have had and understand me that much more, it was a very rewarding experience."
While a new Kiss album does not appear to be on the cards ('At the moment I don't have any desire to do another album. And that may change, but as long as I feel like that there won't be one') the band continue to loom large as a touring act. This month's tour is nigh on 35 years since Kiss first visited Australia. The significance isn't lost on The Starchild.
"It's really gratifying to look out into the audience and see a majority of fresh faces and, adding to that, some parents who want their children to experience what they experienced and bring them," Stanley says.
"So there is always this legend of Kiss that will bring in a new audience, but then we have to justify that legend. That's what it's always about – living up to the stories and this very, very fertile history."
Originally published in X-Press Magazine