Watch & Help Out!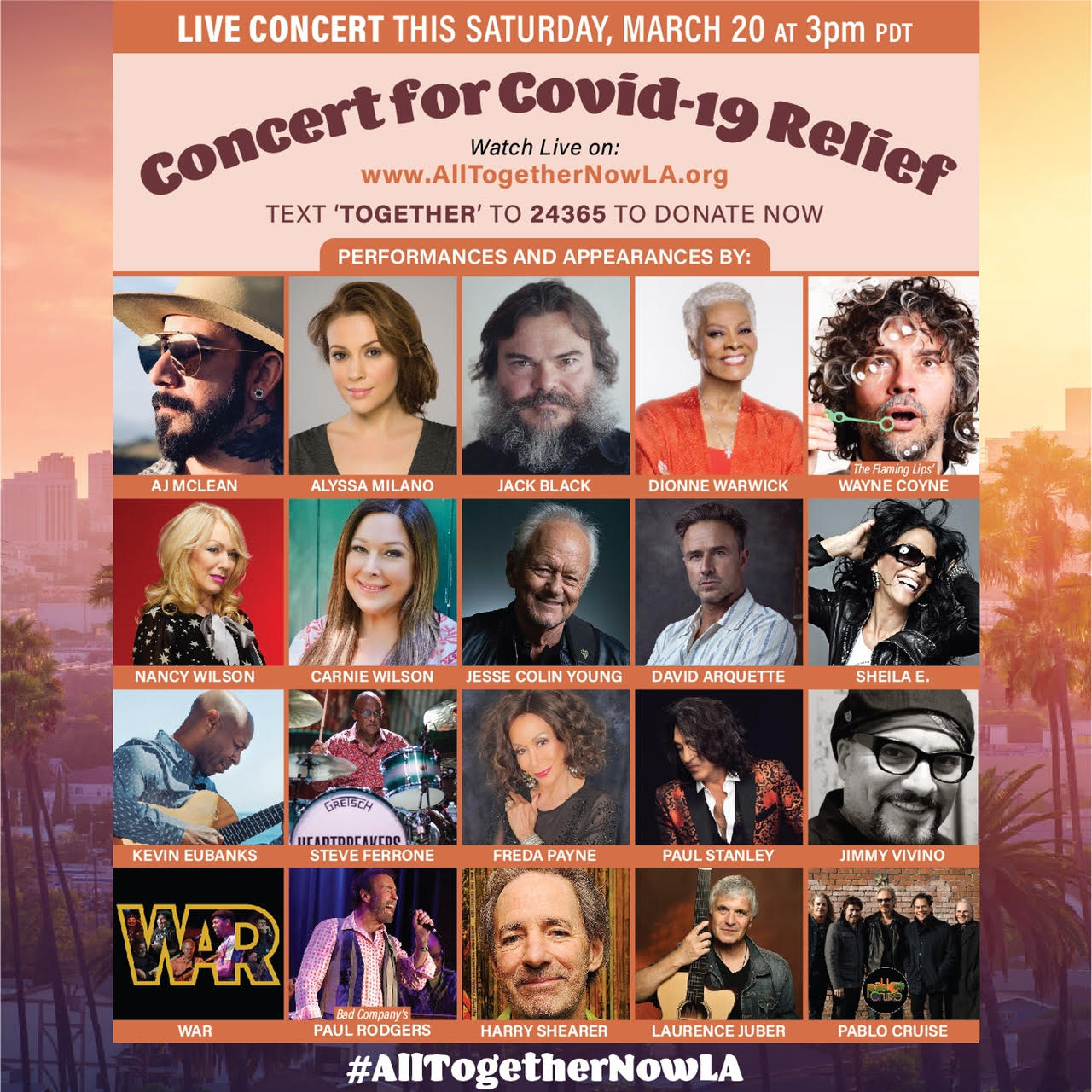 Rock Cellar Productions to present "ALL TOGETHER NOW – LA2" – an online concert event helping the City of Los Angeles with Coronavirus Crisis Relief 
On March 20, LET's ROCK! Get ready for some great entertainment from the comfort of your couch and all for a good cause.
Hosting the show are actress and singer Carnie Wilson with husband singer/songwriter and producer Rob Bonfiglio; singer/songwriter, actress, and activist Judith Owen, actor and singer Bill A. Jones (Glee), and Heartbreaker and drummer Steve Ferrone (Host of The New Guy Show on SiriusXM's Tom Petty Radio ).
A growing list of prominent entertainers has been pledging participation in the event including Wayne Coyne (Flaming Lips) AJ Mclean, Nancy Wilson, Alyssa Milano, Christina & David Arquette, Jack Black, Paul Stanley, WAR, Harry Shearer, Sheila E, Paul Rodgers (Bad Company), Kevin Eubanks, Jeff "Skunk" Baxter, Jimmy Vivino, Billy Vera, Colin Hay & Cecilia Noël, Steve Lukather, Mindi Abair, Paul Glaser, WAR, Ellis Hall, Bootsy Collins, Albert Lee, Strawberry Alarm Clock, David Garfield & the Cats (Steve Ferrone, James Harrah & Jimmy Earl), Freda Payne, Pablo Cruise, Franke Previte, Stephen Kalinich, Rebecca Holden, Gregg Bissonette, Peter Beckett, Walter Egan, Tin Drum (Burleigh Drummond/Mary Harris of Ambrosia), Richard T. Bear with Laurence Juber & Tony Braunagel, The Cowsills, The Empty Hearts (ft. Elliot Easton), The Immediate Family, VENICE, Jeff Silbar, Dedee Pfeiffer, Kate Taylor, Dan Navarro, Craig Taubman, Jason Becker, Erich Bergen; EMERGING ARTISTS: Casey Abrams, Aubrey Logan, Rachel Flowers, Maiya Sykes, Dauzat St. Marie, Emmanuel Kelly, Cameron Graves, Carly Smithson with The Tribe, Elliot Lewis, Rocky Dawuni, Eric Baines, Butta B-Rocka, Greg Scott, Plastic Culture, John Flanagan, Lexy Panterra, King Elle Noir, FTG Trap, Justin Love, Michael Lemmo, Peyton, Tara Macri, plus the world premiere of The Tribe's "Get Together" song feat. Jesse Colin Young.
100% of the proceeds raised will provide food, shelter and services to homeless families, and support to first responders, musicians, restauranteurs, and more, through several partner organizations helping those in need including the Mayor's Fund for Los Angeles' COVID-19 Relief, The Midnight Mission, Project Angel Food, MusiCares®, Valley Cultural Foundation, and the Get Together Foundation, all action-based organizations making a difference in our community.
All Together Now – LA2 is available to watch for FREE right here.
A text-to-donate link will be available throughout the event. Join us Saturday March 20th, starting at 3:00PM PDT.
Supporters will enjoy not only a concert of immense talent, but one that includes being part of the bigger picture – one that embraces Los Angeles and a cross section of our community – those who have lost their homes, their jobs, and have limited or no means of income until this pandemic passes.
If you love good music and helping people in need, don't miss it. This is going to be a beautiful effort where success and generosity come together to truly impact lives. Please donate what you can.